As you know my girl Seej celebrated her birthday this week.  She had a great day, and of course I was there to follow her around with my camera to capture the whole thing.  She got an early morning wake up call from her pesky brother and sister singing happy birthday to her before heading off to school.  This year went much better than last year with Doop actually singing happy birthday to Seej and not happy birthday to the buttcrack.  I was so relieved.  No tears from her this year over his singing was a plus!
Doop patiently waited all day for her to come home and for everyone to arrive at Grandma's so she could blow out her candles and eat the cake.  He did the sprinkles on top himself!
Doop and Lou each gave her a pet shop.
And from everyone else?  Earrings
Scriptures
A pedicure kit
Jon Schmidt.  We love him!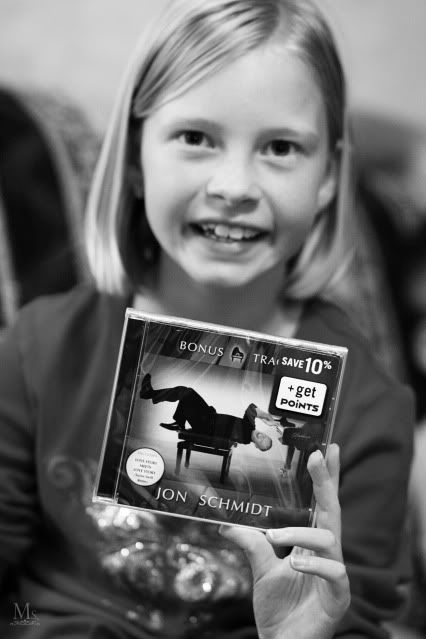 New watch
New coat
When we finally made our way home from Grandma Rue's there was a surprise gift at our house from the Smith bunch, and Seej was so happy!
Miley Cyrus went straight to the stereo and then the party really started.  The music started to play and none of the kids could hold still including Seej.  Here she goes:
"So I put my hands up their playing my song the butterfly's fly away"

"Noddin' my head like yeah"
"Movin' my hips like yeah"  She didn't even care that I was snapping her picture.  You know what this means.  It was a great birthday!