As the storm moved closer the air turned cold, and so did the hearts of those who lived in Smith City.  The outlaws had made their way to town and the people held out only one hope that the fastest gunslinger around, Cowboy Doop would save them from the evil curs.  He made his way to the center of town and the gunfire soon rang out.  The townspeople fled and Doop was left alone to face the wanted outlaws.  He fired his shotgun again and again and soon took cover to reload.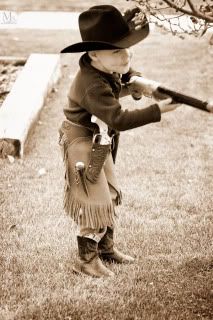 His aim was deadly, and he bravely held the outlaws off as he dodged bullet after bullet making his way through the center of town.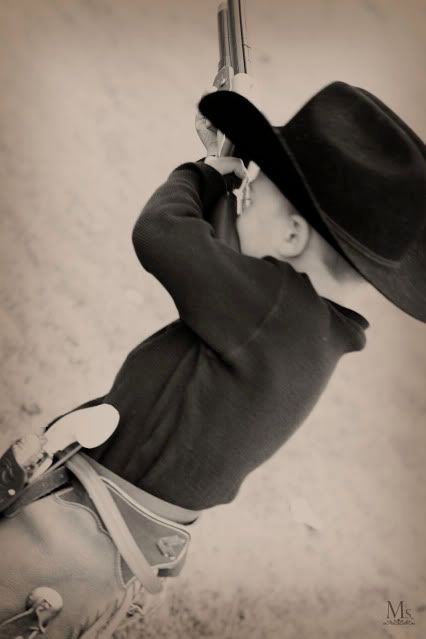 At last he made his way to the local hotel and used his last few shells as he dodged into the building.  Several of the outlaws were wounded making this a fair fight.
He assessed the situation carefully from the highest window he could find.  
The outlaws were no match for this fierce hearted cowboy, and he picked the dadgum varmints off one by one.
Cowboy Doop was the hero of the town, well respected and loved by the townsmen.  
He wore the mark of the guns on his belt, and the mark of good in his heart.  
Yep.  A true cowboy right down to the dimples!
Special thanks goes to Tom Berenger, Sam Elliott, Robert Duvall, Tommy Lee Jones, and John Wayne for inspiring little Doop to be the "good guy".  Special thanks to Grandpa Marvin for watching these movies with Doop over and over and over again this week.  He loves all of these cowboys including Grandpa Marvin and the way that they do good fending off the outlaws and riding their horses.  He loves to visit Lonesome Dove and follow Conagher on horseback.  The only requirement he has when watching these movies is that everyone watching have a gun ready to help fight off the outlaws.  We love our little cowboy and sharing in his imagination, and we have many more gun fights still to come.