So my mom has this recipe for Raspberry Salad that is so delicious, and I should let you know that she is the best cook

ever

.  She just has this natural talent for it.  I love this, and hate this at the same time.  She makes wonderful food and I love to eat the things that she makes, but I also hate to cook because I always compare everything I make to how good hers is and mine never measures up.  Anyway, enough about my hang ups with cooking.  My kids really enjoy this salad too, and because I will soon be printing our family portion of this blog into a book for them, I wanted to include this recipe.  I thought that someday it would be fun for them to look back at not only our fun day of making it together, but also at the fact that they actually have Grandma's recipe in a book with step by step instructions.  I know for me I sure could have used a recipe book with pictures and detailed instructions, since unlike my mom I don't have a knack of adding a pinch of this or eyeballing how much of an ingredient should go in.  It's just not a talent or instinct I have ever acquired.  Well then, on to the recipe.  If you like raspberries, marshmallows and Cool Whip then this will be one that you enjoy as well.
Step One:  Find a trusty assistant or two to help you if you plan to take pictures.  It's so much easier that way!  After this very important step begin by mashing up 15 double graham crackers.  Since we do not own a rolling pin and have not in almost 15 years of marriage we use a cup for this step.  (I know, this really tells you how much baking, cooking, etc... that I do).  Also, if your trusty assistant is a small child, start early.  It could take a while!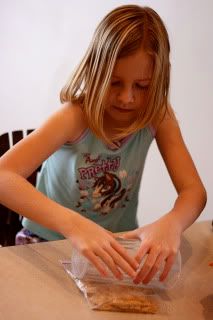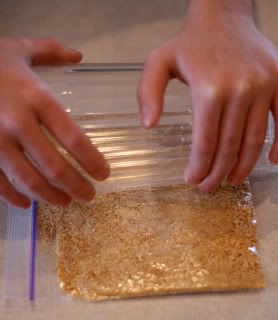 Pour your mashed graham crackers into a bowl and set aside until later.  
Step Two:  Grease a 9x15 dripper pan in preparation for the salad.  Since we will be melting one cube of butter for the recipe, we just use the cube of butter to grease the pan.  Efficient, right?

Set your greased pan to the side until later.
Step Three:  Add 1/2 large package of large marshmallows and 1/2 cup milk to a pot.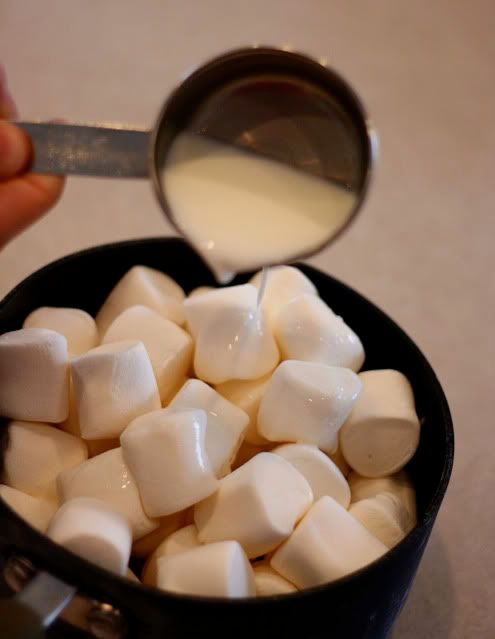 Place on the stove and melt.  Stir constantly!  You don't want to scorch your milk.  Trust me on this one!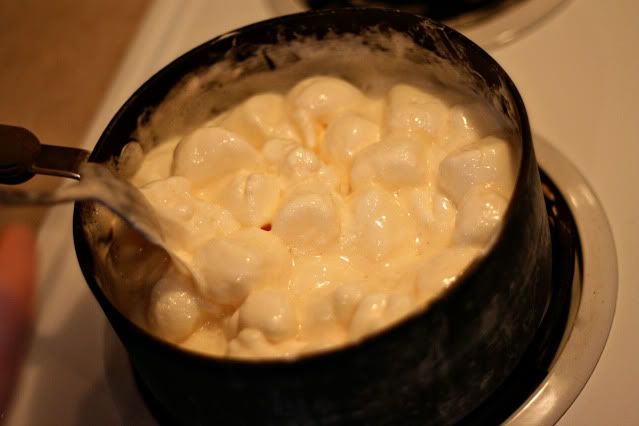 Soon it will become very gooey...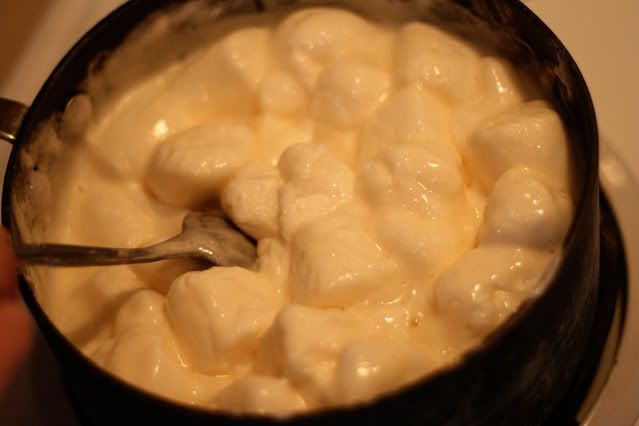 ...and eventually the marshmallows will disappear.  Remove from heat and set aside to cool.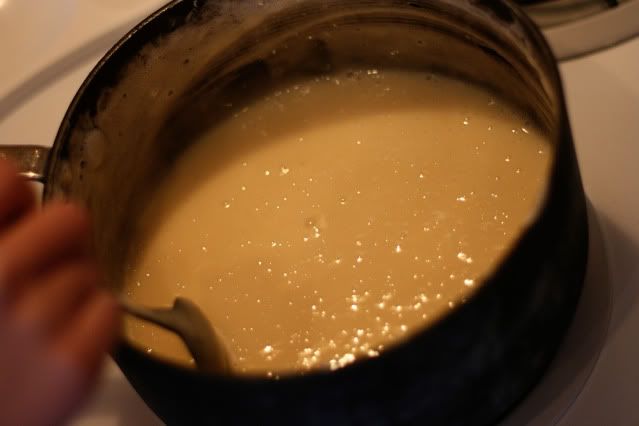 For the next step you will need a mixing bowl, one 9 oz. thawed tub of Cool Whip, and one package of frozen raspberries.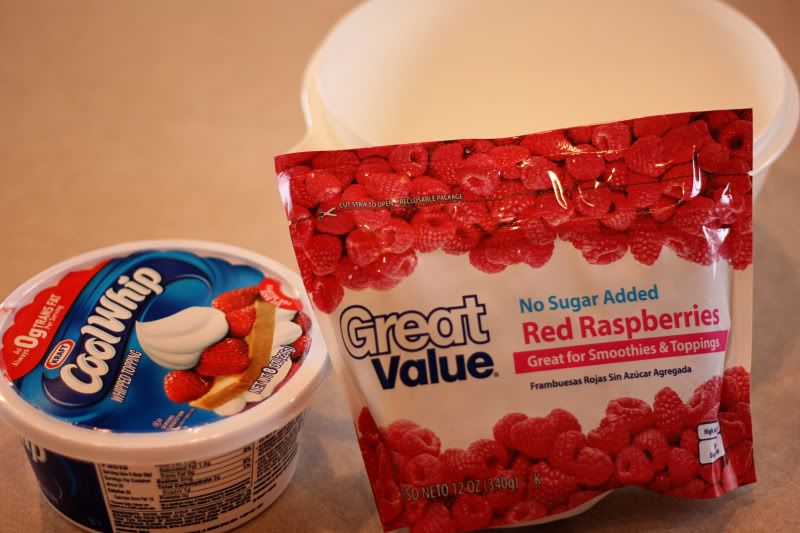 Step Four:  Add the Cool Whip to the mixing bowl.
Now add in the

COOLED

marshmallow. (If it isn't cool it will completely melt the Cool Whip, not good.  Thus, the Cool in Cool Whip.  Again, trust me on this one!).
Next, add in the frozen raspberries.  Make sure that your trusty assistants don't eat them all before they make it into the bowl!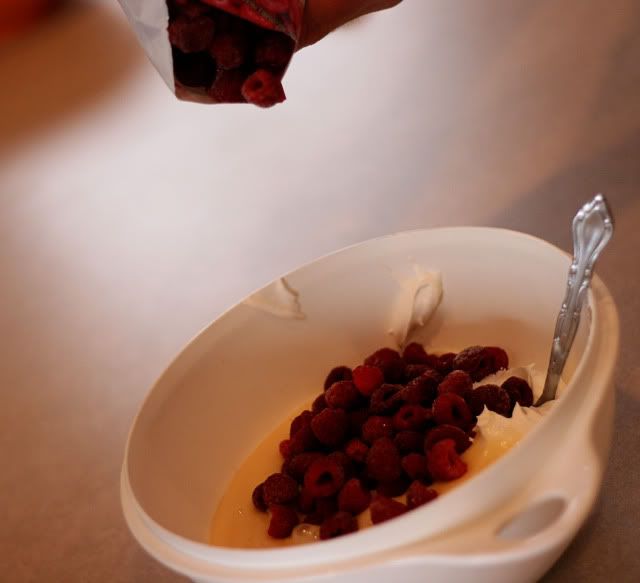 Now, fold this mixture together.  Notice I said fold.  If you stir it too much it won't stay fluffy.  Again, continue to trust me on this one.  You don't want it to become soupy!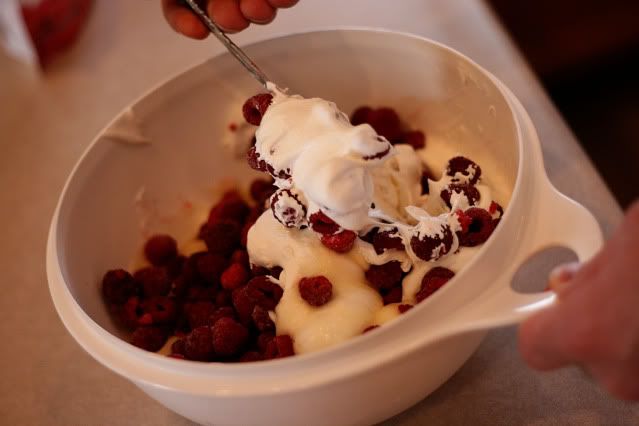 Looks good, huh?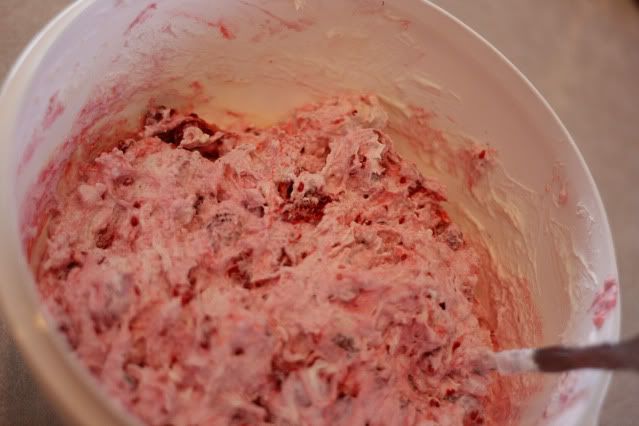 Step Five:  Melt the cube of butter (remember we used it to grease the pan?), and then pour it over your bowl of mashed graham crackers.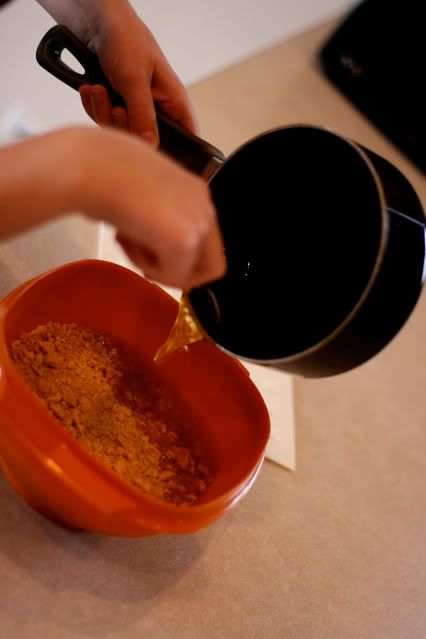 Mix it up well.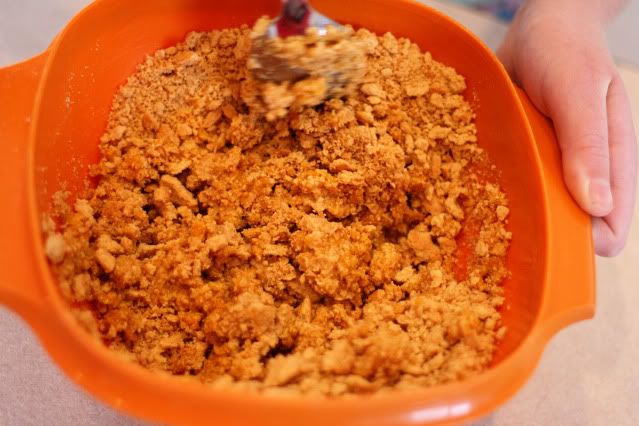 Now add half of your graham cracker mixture to the greased dripper pan.  (For the record this is totally my mom's lingo.  If she didn't show me what she was talking about I wouldn't even know what a dripper pan was.  I couldn't contain it.  I had to confess!)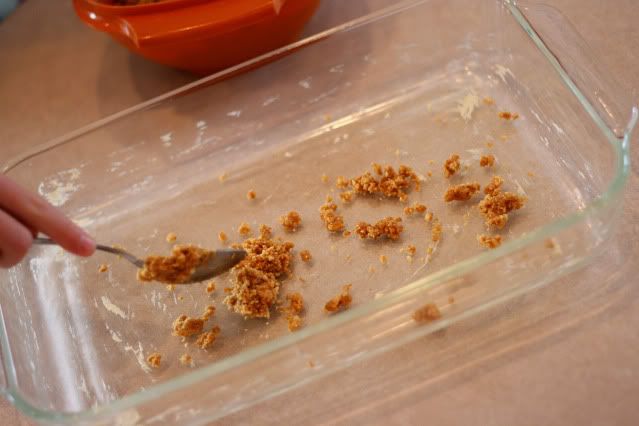 Pat the crumbs into the pan forming a crust.
Add your raspberry, marshmallow, and Cool Whip concoction to the pan and gently spread over the crust.  Note:  If you are the trusty assistant who has actually hung out long enough to make it to this part of the recipe, now is a good time to lick the bowl.  Be quiet though, you wouldn't want the other not so trusty assistants to show up and steal your glory!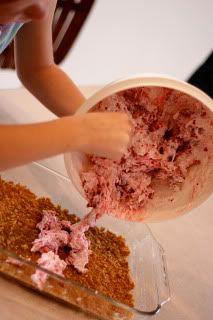 So pretty!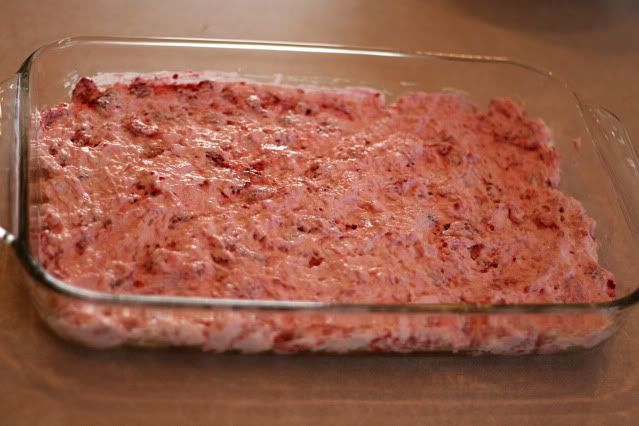 Now take the other half of the graham crackers and sprinkle on top.
And there you have it.  Grandma Rue's famous Raspberry Salad.  Perfect for holidays and potluck parties.  Not only is it beautiful in the pan, but it is oh so delicious!  One more thing, if I can make this anybody can, and the real bonus, it has no fat and no calories.  Okay, I confess this isn't exactly true, but it makes me feel better when I eat it.