I Heart Faces has an amazing give away in conjunction with Amy Wenzel. In exchange for my story (in 600 words or less) and how I inspire others, I have the opportunity to win a seat at Amy's two day workshop valued at $1500. Wow, what a gift. So here is my story in pictures and words, my favorite way to tell one.
Once there was a girl who was dreaming. She was quiet, reserved, and desperate to find happiness. She discovered she had athletic talent and was passionate about it. This was it. She found her niche and eventually played for a college team, but this girl also met a boy and they were eager to start their lives together. Accolades and winning were her focus. Then came the turning point. High on a mountain top with her family she suffered a near fatal accident. Her horse fell on her leaving her with major injuries. While she and the boy she loved waited for Life Flight to arrive, visions of things she thought were most important were violently shoved aside by a fierce rushing forth of regrets regarding things that would never be. Although surrounded by loved ones during this hour, her thoughts were private and her new focus became surviving. The sharp images in her head included temple marriage, children, watching her parents age, and the simple things she had taken for granted like the smell of the rain and the sun on her face. As anxiety swept those images through her head, it gave her a taste for things she really wanted and provided new focus. Those moments altered her forever. She knew that she never again wanted to experience the painful desperation of not being focused on what mattered most.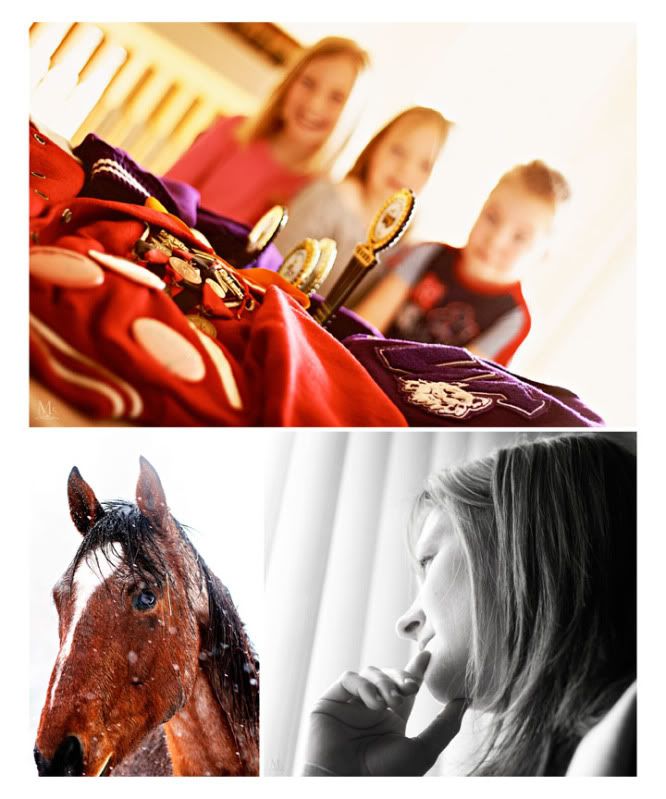 With determination and courage she returned to finish her final year of volleyball. Shortly thereafter she married the boy who diligently stayed by her side throughout her accident and recovery. Five years into their marriage they experienced bringing their first child into the world. A miracle according to those who had diagnosed the girl with a childless fate. A miracle that would not be repeated once more, but twice. Tears sting her eyes when she thinks of that day years ago on the mountain, and the emotions and thoughts she clearly remembers. She is grateful for the physical reminders that don't let her forget where she has been, and how far she has come. She is consumed by appreciation on a daily basis for living the moments she never thought she would, and she has learned to live with no regrets. Her life with the boy and her children is simple. No frills and no hype, but it is filled with laughing, loving, crying and learning. Her passion for photography allows her to capture it all keeping these moments timeless to be forever remembered. It keeps her focused on the moments that mean the most including details she once missed. As her favorite quote states, "Life's not about waiting for the storms to pass, it's about learning to dance in the rain."
Luckily, I know this girl. I didn't for a while, but I have found her again and photography has helped me do that. And what about inspiration? I simply live my life one day at a time in awe of those around me who have bumps in their journeys marveling at how they cope. Hopefully I inspire others to look at things differently, and to see value in each moment. Hopefully I inspire others to dust themselves off and never give up. Hopefully I inspire others to cherish the simple. I am inspired by so many who courageously face challenges because everyone has a story. I would love to use this opportunity to learn more and capture those stories for others. I truly believe the view of the world is different through my lens. It's a beautiful view with a picture perfect focus.