This is one of Doop's favorite places to be. He kind of likes the bathtub. Actually, he likes it a lot. Here he is fascinated as he watches the water fall from the spout. It gets him every time. He is mesmerized by the magic of the water coming from the big pipe in the wall, and often times I would love to crawl inside his head to see the picture he has created of where he thinks this pipe and the water it carries comes from.
This is Doop just minutes before the bathtub scene. This scene is not so pleasant. In fact, I tried to snap more shots of this and they are not so good because he is not so cool with getting his hair cut. Well that is unless Mandee does it, and that only happens once a year when my girls get their back to school haircuts from her. He kind of likes Mandee. Actually he likes her a lot. I don't blame him. She's cute. He never seems to freak out about "the hair falling on him" when Mandee cuts his hair, but haircuts at home are not delightful. The one thing that helps Doop endure the trauma of "the hair falling on him" is looking forward to getting in the bathtub afterward. The thought of it gets him through.
And so when the clippers turn off and he enters the water, he is happy. Not only does "the hair that fell on him" get washed away, but so do the tears. They are replaced with smiling eyes that I had to capture because I want to remember them forever.
For Doop the bathtub means entering a water world with his favorite toys. His imagination here is endless. Here he is driving his car to Texas. This is what he told me anyway.
And what would tub time be without Spiderman? If you remember last fall, Spiderman helped Doop accomplish an important mission. Sure there are other superheroes in the house, but none compare to Spiderman. This version of Spiderman actually throws webs from his mouth, and he is a constant companion for Doop in the bathtub. I can always count on finding him there patiently waiting for Doop to join him.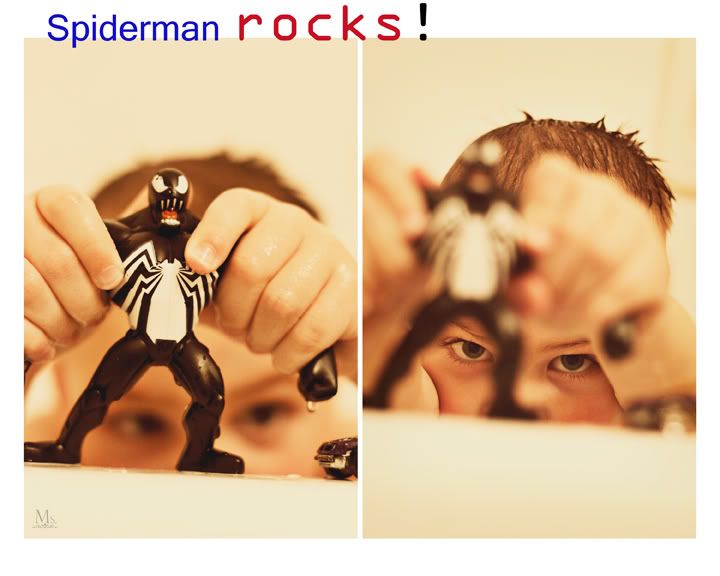 Yes, the bathtub is a favorite place for Doop. How lucky am I? No fighting about getting clean, and he smells so good. I love that this is a place he enjoys visiting often, but with a magic waterfall, trips to texas and superheroes who can fly and swim, I can't say I blame him!