First and foremost you should know that I'm not feeling well. Once again a germ has crawled up my nose and into my head and I feel like junk! So having said that my thoughts are a little mixed up today, thus this strange post. Just sayin' there is a reason for this madness. Now, moving on.
Seej had to do a biography report last week on Sacajawea, and part of the report included drawing a picture and dressing up as her subject. Here enters Grandma Pat who has this hidden world of treasure in her basement that seems to be endless. Seriously, it doesn't matter what off the wall thing we need Grandma Pat has it in a small room downstairs that I think I have only actually entered on one occasion. Anyway, we are grateful that she is so talented at making so many different things and even more grateful that she is so talented at keeping it stashed away in places that only she knows of. This is where Seej got her awesome outfit. She was so excited. Here she is all dressed up letting the class admire her artwork.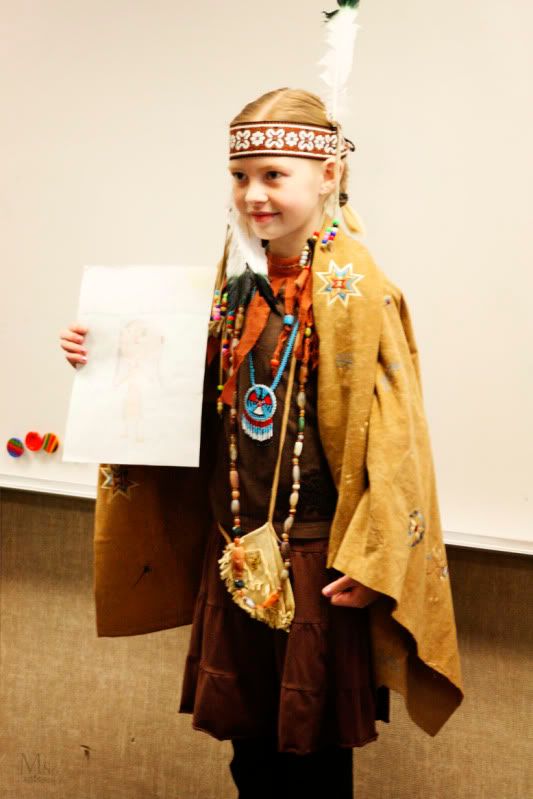 All week JM and I teased Seej about the fact that Sacajawea was deaf. Oh we both know she really wasn't, but we love Night at the Museum and could not resist taunting her all week. That and the fact that when she saw the little boy at school portraying Teddy Roosevelt she would have found the man of her dreams. It was a fun week of teasing and she enjoyed it even if she tells you she didn't ;). So, when she started showing the class the sign language that Sacajawea's tribe used (because all tribes had their own language) I had to snap a shot.
Sorry it's blurry. One of her classmates was attempting to manhandle my camera.

Here are the cool details of her outfit. Necklaces.
A purse/medicine bag. I'm going with the medicine bag. I'm not sure why Sacajawea would have needed a purse. I mean really.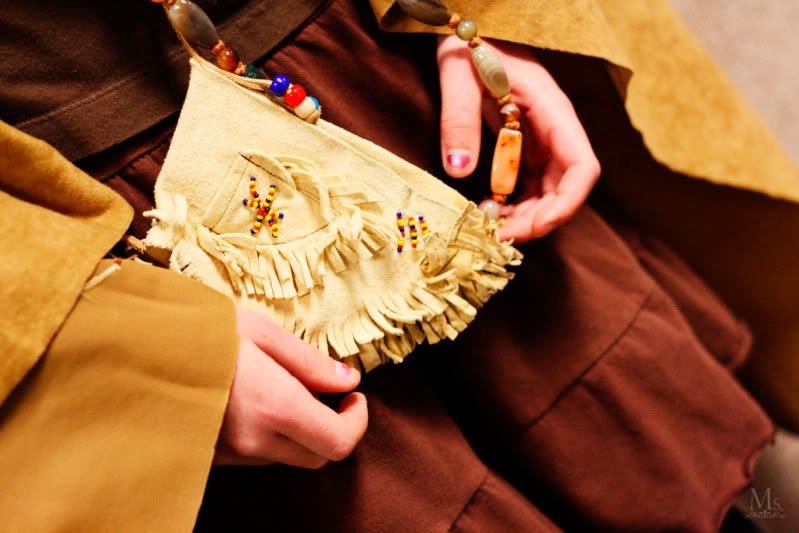 The cool headband, hair clip and feather.
All joking aside she did so great, and I was so happy to have the opportunity to witness it in person. Great job Seej!
Now, on to the Sucker section of this post. Last Sunday we went to visit my parents like often times we do. They live on a pretty desolate street. Not many houses, and not many people. When we arrived there was someone standing in the road not far from their house alone and afraid. Right when I saw him I knew we were in trouble. The kids and I tried to ignore him, but we just couldn't. We got JM to go with us to see him up close. He wasn't too thrilled with us coming to visit and ran away. We all hunched down low in hopes of coaxing him in, but it just wasn't going to happen. Then little Doop couldn't contain himself any longer. He started riding his bike around noisily and the stranger followed him. This is when I knew we were really in trouble. They had an instant connection. Long lost friends. Amigos. Meant to be together. The stranger followed Doop back to my mom's house and panicked when Doop went inside. Real trouble now. They were hooked on each other, and what were we supposed to do.
Some neighbors passed by walking another dog and he ran off with this family. We were hoping that would be the end, but several minutes passed by and we saw him trot back past the house. When we left to visit Grandma Pat we turned the corner and saw him curled up under a small bush. Then came the cries from the back of the car. Ugh! We couldn't do it. We couldn't leave him. JM was the one who finally told me to stop the car and we returned to where he had made his makeshift home. The stranger climbed inside, and we took him home hungry and afraid.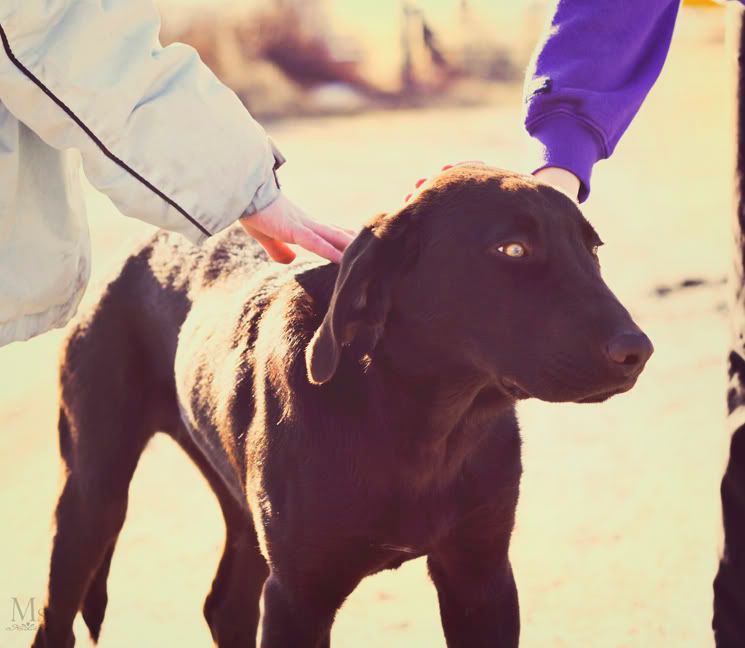 The trip home was full of excited jabbering from the back of the car, and concern from little Doop if his new friend was okay. The next item of business was giving this stranger a name. Of course Doop was the most connected and therefore wanted to name him after one of his favorite cowboys from Lonesome Dove. After going through all of the characters including P-eye, Gus, Newt and several others in between the girls finally agreed to Jake. As in Jake Spoon. Good cowboy turned bad. And so, he is slowly growing accustomed to his new home and family. He is still somewhat afraid, but he is very well fed. Some days he has been too well fed since it is the kids' job to take care of him.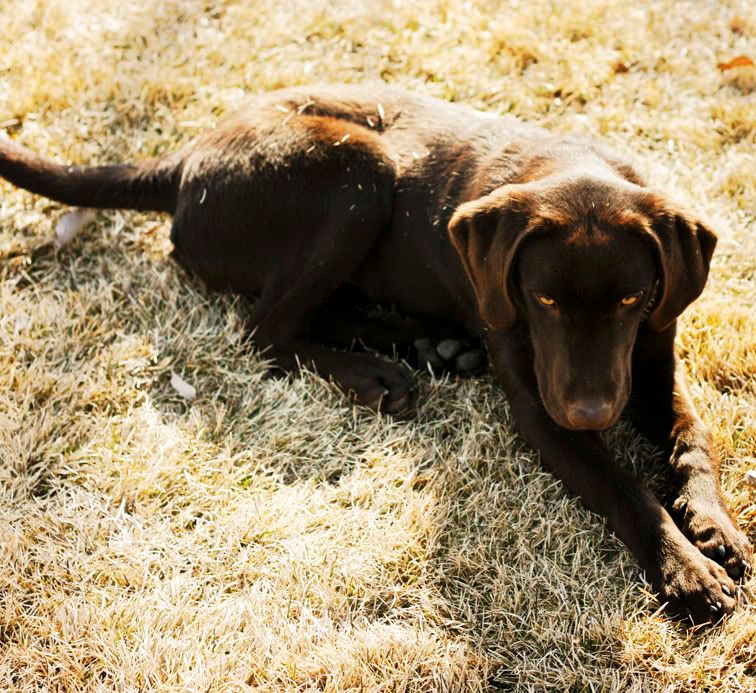 But he is happy, and someday I'm sure we will hear little Doop say:
"Now I lay me down to sleep, I pray the Lord my soul to keep, If I die before I wake, feed Jake, he's been a good dog, My best friend right through it all, if I die before I wake, Feed Jake"
Alright, I couldn't resist! So many people have mentioned the song since I've told them this story. Really though, the last thing we needed was another dog in our backyard. Ugh! Why didn't I just listen to myself and walk inside the house when I first saw him. I am such a SUCKER!