If you haven't met my boy before let me introduce you to him. This is Doop. He is having a birthday this week, so this post is all about him. This picture was taken of him early last summer when he was dreaming of learning to ride a two-wheel bike (with training wheels of course!). He would wear his helmet and attempt to push the pedals all the way around, and when it wouldn't work he would ditch the bike and go back to the big wheel that he could easily move by pushing his stubby feet against the ground jolting him forward. This picture was taken during one of his breaks. It's tough work pushing yourself around trying to keep up with two older sisters, and he needed a drink.
My boy Doop is quite the kid to say the least. He is a good boy, has a sensitive heart and he loves to be loved. I must say though that he definitely has a mischievous streak. Like the time last summer when I put him in swimming lessons with the girls. This picture is the scene that was repeated daily for two weeks until the lessons were over. I think he only made it off of the stairs once, and that was when the teacher took him out into the pool and dunked him. That pretty much cured him from venturing out again, and instead he took his anger over this event out on the side of the pool. I know. It was money well spent!
But the other side of little Doop is sweet and soft especially when he is sleepy. Unfortunately he acquired my thumb-sucking gene just like Lou, but I love when he comes to snuggle with me at night. He and I have already discussed the fact that even though he is getting older this is still something he will continue doing because as he said to me when we were discussing him having a birthday, "I will still always be a little kid, and you will still always be a bigger kid mom". Oh how I love him.
Something else you should know about Doop is that he loves guns. In fact, his motivation for leaving diapers behind was the opportunity to shoot the diaper box up with the BB gun. You can read about it here if you haven't seen it before. It was an excellent experience for him.
He also loves to fish. This is awesome for JM since this is his favorite past time. Although he does know how to use a fishing pole, I think he prefers this form of fishing. Look at his face. He was loving every minute of chasing this fish down and capturing it with his hands. The feel of it in his fingers and the water flipping off of it's tail onto his face only added to his excitement.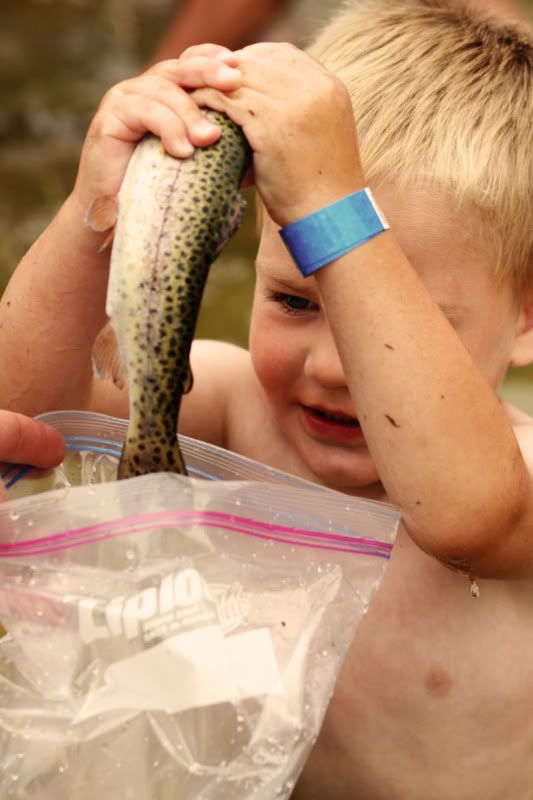 As you are probably already aware Doop has two older sisters. Surprisingly enough he loves it. I mean he really loves them so much and he can't wait to spend time with them. You have probably seen him here on the blog before in their pink hand-me-downs and in their dance costumes. He doesn't care. He just enjoys spending time with them. I did have a good picture of him in a pink tutu, but I decided to spare his dignity and post this one of him and Lou instead.
This picture was taken about a week before the 4th of July. He finally figured it out with encouragement from all of us. Here he is with Lou riding down the road for the first time. Nevermind that it looks like she is about to break her ankle while helping him. She was willing to make that sacrifice!
I will miss these days with Doop. I have such mixed emotions about his birthday. I am excited to watch him continue to grow, but I am sad that my baby is growing up. Although I know that many things will change, here are a few things I hope will not for a while. I hope he will continue to sneak into my room in the morning and climb in my bed because as he has told me many times, "mom if you're scared just yell at me and I'll protect you in the night".
And after we're finally awake he always tells us that it's time to wrestle as he rolls around giggling in the bed.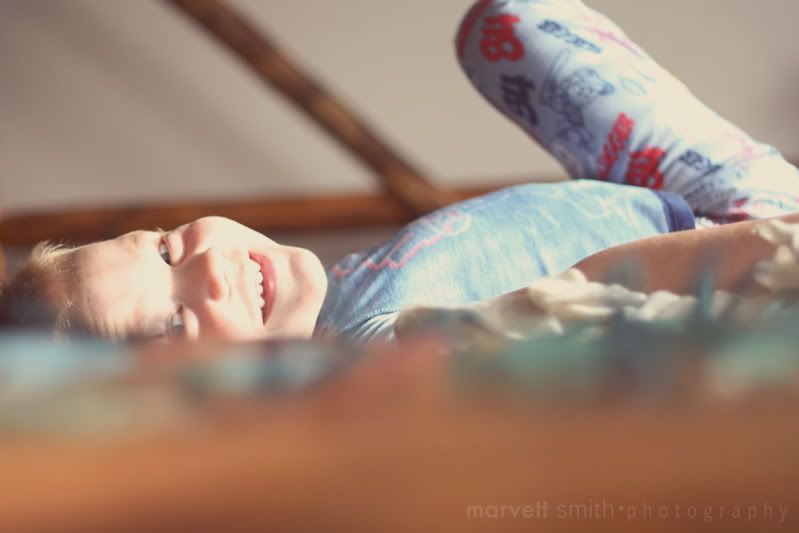 Last but not least this look. This look of anticipation waiting for me to fake him out and then pounce back on the bed tickling him until he begs for me to stop.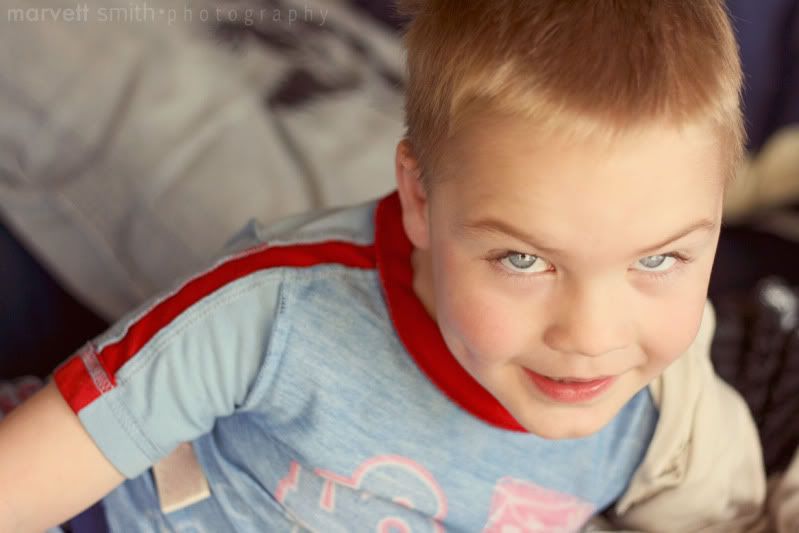 And how can I forget his stick horse? I hope he keeps riding this thing until it is completely worn out. He loves it so much. He feeds it, waters it, and cleans up it's imaginary messes just like a good friend would.
And speaking of imagining, I hope he keeps it up. I love the world he travels to when he's outside by the barn. I love it because I remember it myself. Galloping around the barn, racing the competitors and enjoying the beauty of a place that seems so vast because in comparison he is so small. I know that place. I miss it, and I love that watching him takes me back in time.
And these faces. These silly crazy faces that he comes up with. I hope he keeps entertaining us with his grand personality. He literally keeps us in stitches, and lightens the mood when things get too serious. I hope this continues for a very long time.
I hope he keeps doing this too. His laugh is contagious and it always brings a smile to my face. Oh Doop, how happy I am that you are part of this family. I love that you are my buddy, and I love the things you teach me. We love you more than words can say. Happy birthday my little friend!