This past Sunday was a different kind of Sunday. We were all home together after church and the house was quiet. Really quiet. The girls were upstairs, and JM was taking a nap. I found myself sitting downstairs alone in the basement feeling lost with no responsibilities at the time, and contemplating what use I should make of my free time. Most of the time I am literally scrambling from one thing to the next with my mind constantly racing about all of the things that need to be accomplished. It's often times hard to enjoy things to their fullest when I'm worrying about what is coming next, so this was a rare opportunity. I have so many things logged in my brain that I would like to do in times like these. So many things that I wish I could do, and just never seem to have the time, or find the time to do them. As I was sitting downstairs alone thinking about how to best utilize my time, little Doop waddled down the stairs and asked me if I wanted to do something with him. He didn't have anything in particular in mind. He just wanted to spend some time together. I couldn't think of anything better than sharing some much needed time with my favorite little boy, so I asked him if he would like to make cookies together. He was so excited!
When I was a little girl my mom used to make cookies. I remember watching her as she added the ingredients, always taking such care to sift the flour before putting it in, and she never had to measure anything. She just magically knew how much of everything needed to be put in the mixer. And speaking of the mixer, my mother gained a lot of experience working with a mixer during her time in the school lunch program. I often times had the opportunity to go into the kitchen with her, and I was always fascinated by the massive mixing machine. She took such pride in baking the bread and rolls for the kids, and I saw cooking in a whole different light. It was her art. It still is. So when my brother purchased a Kitchen Aid mixer for her one year for Mother's Day when I was young, I thought we were in heaven. I knew that my mother knew how to work a mixer. I had witnessed her using one much larger than the version my brother bought, and I knew what she could do with it. Eventually as I got older she taught me to use the mixer myself. Unlike her I had to precisely measure everything before adding it to the bowl. I still do. I don't have the eye for cooking that she does, and her food always tastes better to me.
There are positives in not being as keen on cooking as she is though. I have learned to use the recipe, to rely on it, and to be obedient to it's instructions. I have learned that my lack of knowledge in this area does not grow through trial and error, but rather if I am doubting something to ask someone who knows more than I do. In this case my mom is a great candidate! I have learned that there's nothing wrong with asking. It's a good lesson in humility for me and an opportunity for my mother to share her talents and gifts in return. It allows her to shine, and she deserves that. And besides, the fun of having to measure everything is sharing that with my little buddy. What a great way to include him in the cookie making process, and this is exactly what we did this past Sunday. I filled the cups and he dumped them in. The best part was the giggling and laughing in between dumping those cups. Sometimes they made it all the way into the bowl and other times he was less successful, but it was a chance to realize that the world doesn't come to an end when there is a mess on the counter. A chance for me to learn patience. A mess on the counter means another opportunity for Doop to learn by helping to clean up, and an opportunity for him to feel good about himself by having this responsibility. Can you believe I learned so much in an hour and a half's worth of time? This was definitely a memory worth making, and I'm so glad that it is one we will share. He was fascinated by the mixer just as I was with my mom when I was little. I hope that the memory of the mixer is one that he will pass on to his children, and that he will enjoy the time he spends passing it on to them as much as I have enjoyed my time with him. We will definitely have to repeat this memory again just to make sure he doesn't forget!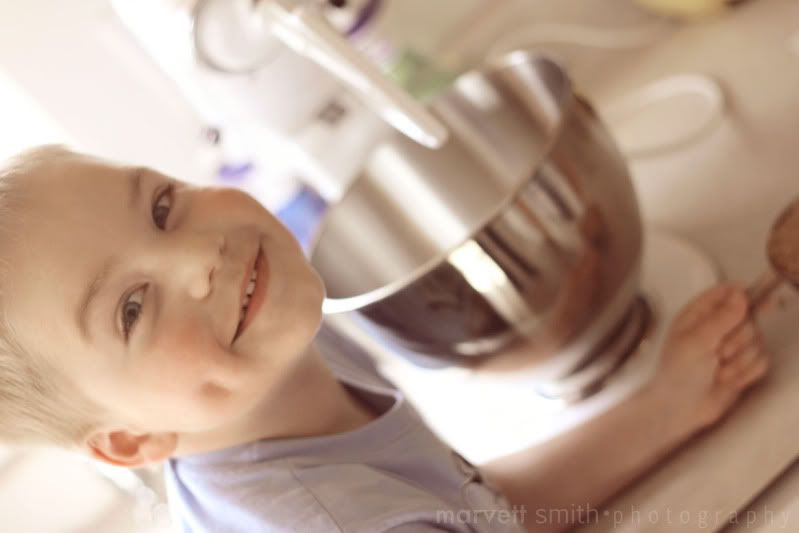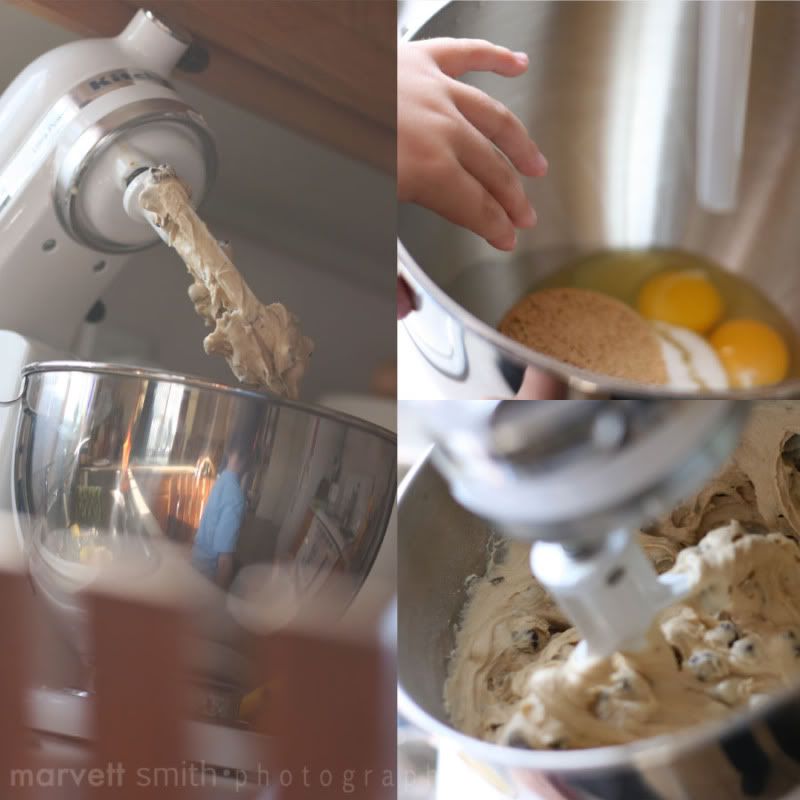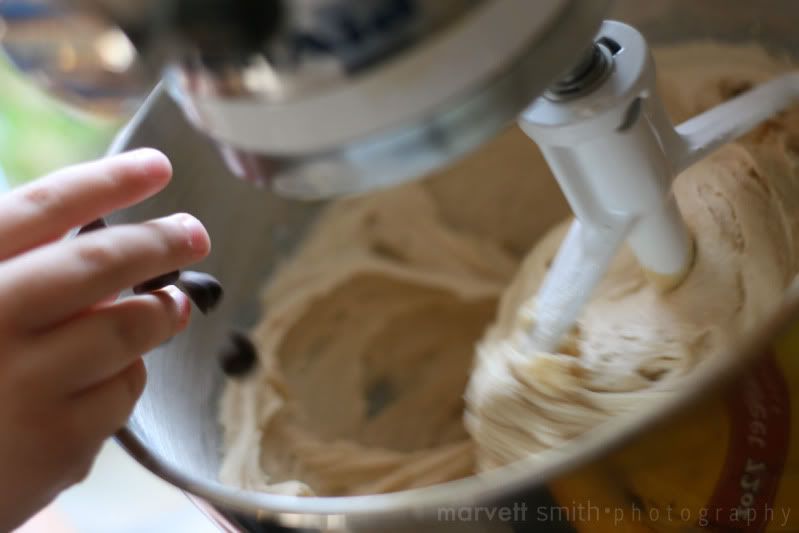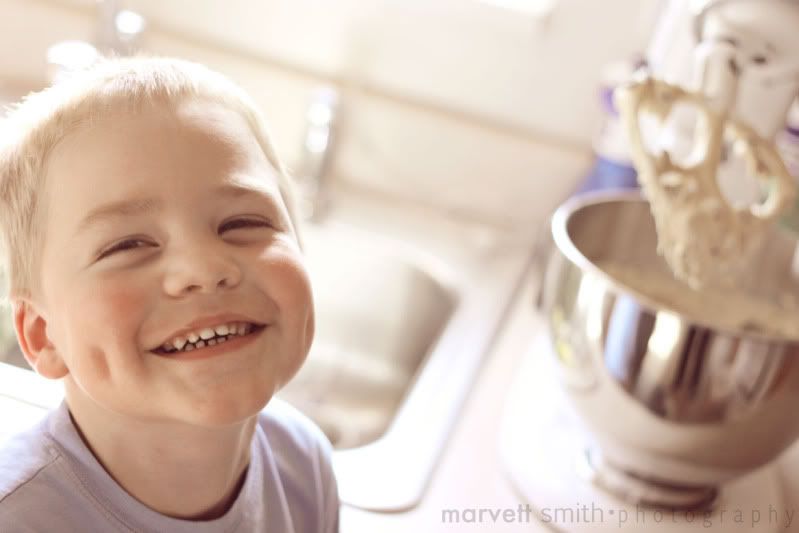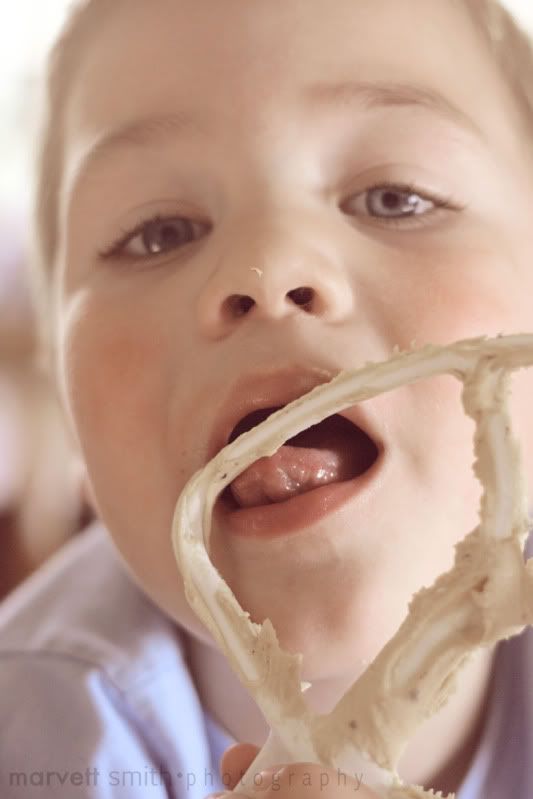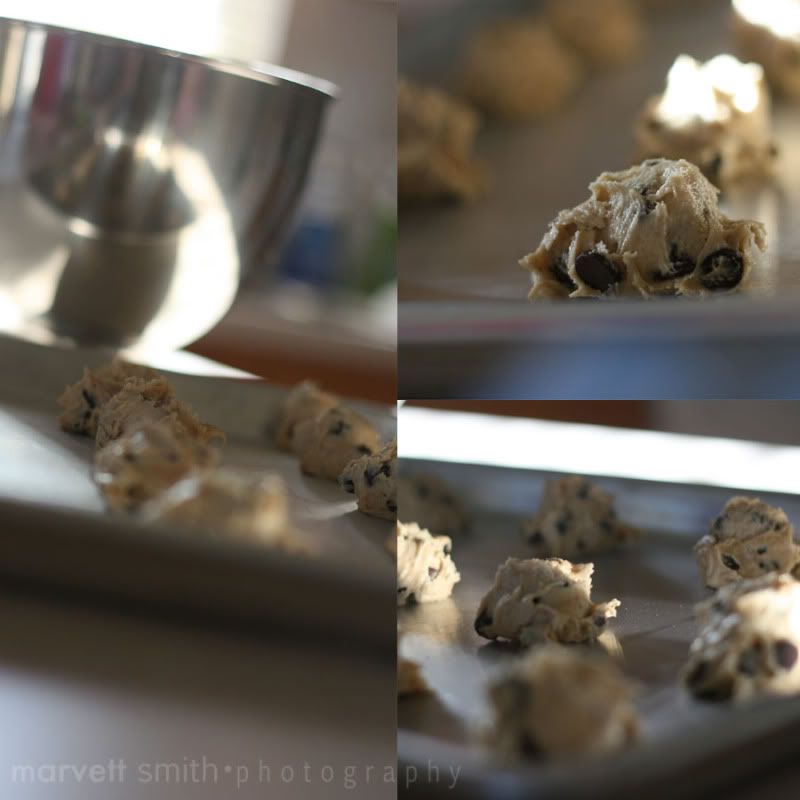 Jubilee Cookies
1/2 c. shortening

2 eggs

1 tsp. vanilla
1 c. brown sugar

1 c. evap. milk

1/2 tsp. soda
1/2 c. white sugar

2 3/4 flour (sifted!)

1 tsp. salt
Mix thoroughly shortening, sugars, eggs. Stir in milk, and vanilla. Sift in flour, soda, salt, and stir in chocolate chips. Chill 1 hour (important)! Drop rounded tsp. 2" apart on greased baking sheet. Bake at 375 for 10 min. Yield: 4 dozen