Since I have started a family of my own I have come to realize the importance of traditions. We have several things that we do each year consistently that the kids look forward to. I love that their excitement builds as they anticipate the activities that await them. The 4th of July carries specific traditions that I love as well. First and foremost is the annual fish scramble. Doop talks about this for days prior to the event. This year was no different. In case you're wondering what the fish scramble entails, several children enter a large wading pool filled with fish that they then have to catch with their hands. Those who catch the biggest fish are awarded new fishing poles, and after they catch their fish there is a booth where they can then be gutted and filleted so they can be enjoyed once more on the dinner table. Here is Doop in the middle of several kids scoping out the victims to find the perfect one.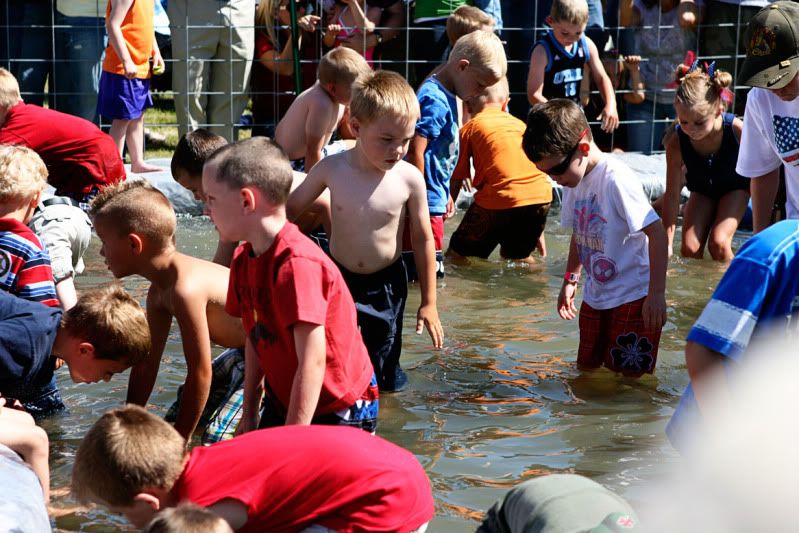 Amid the mass confusion of grown up shouting at their kids and pushing toward the fence to see, Doop actually caught a fish. I tried to snap several shots, but ended up mostly with the back of one of the mother's who was also trying to see her son in action. So, the next shot I got was of Doop heading toward the exit randomly shouting that he had caught a fish while excitedly waving it in the air. Of course he had no idea that I was on the opposite side. It was still fun watching him, and I did make it over to greet him by the time he made it through all of these people.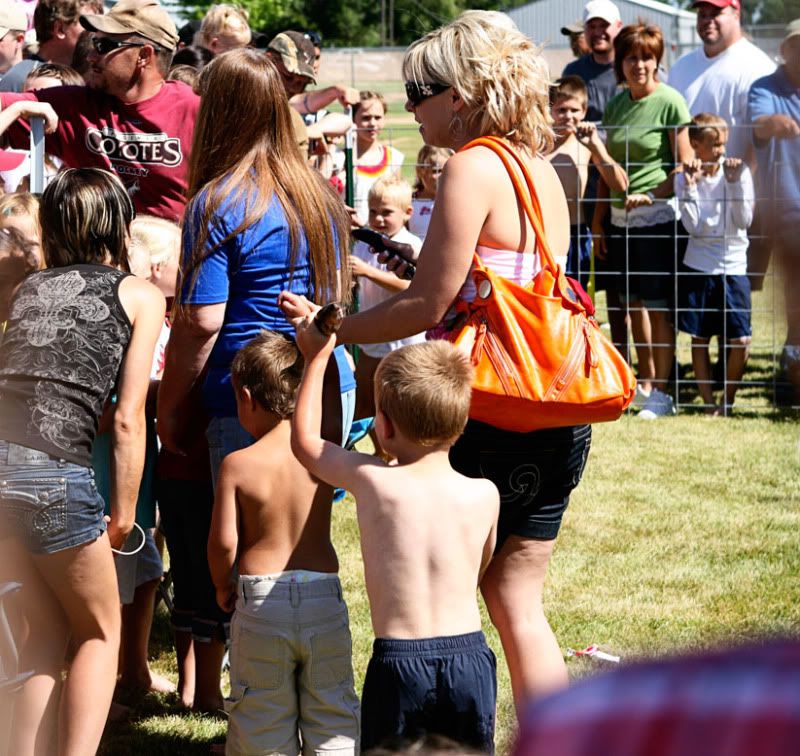 And here is his prize. This was the point in time where I was trying to explain to him that he couldn't take it home and put it in a bucket to keep. Thus the hint of distress on his face.
He is a bit sad in this one. It is finally sinking in that the fish is already dead.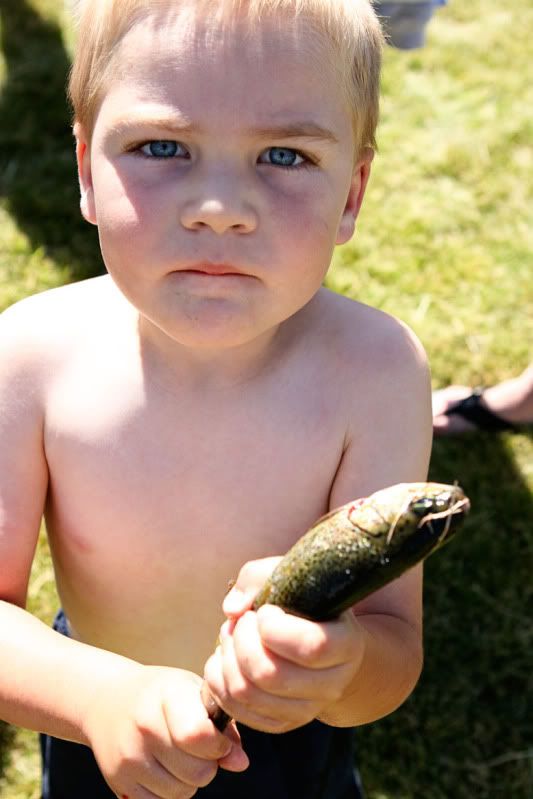 He recovered quickly though. He decided to donate this one to someone who would eat it thinking that he could go back in and catch another one. There was more disappointment when he realized that one was the limit, but I don't have pictures of that part.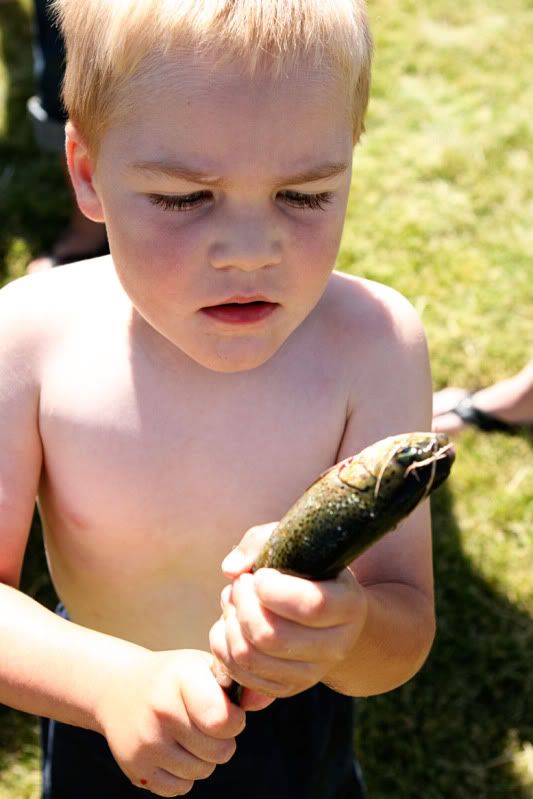 This is because I was busy snapping photos of my girl Lou catching a fish of her own. She is down below in the corner. Yellow shirt, and pink pants.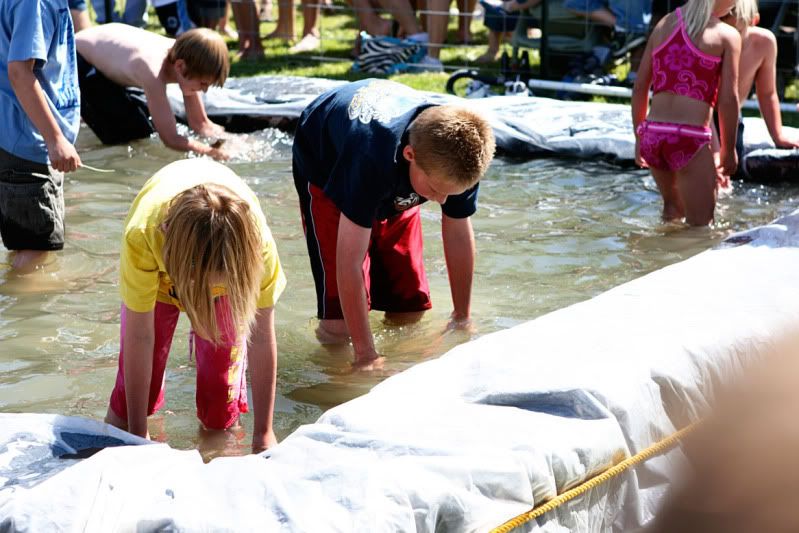 It took her a while longer, but she ended up with one too!
And unlike Doop, she brought her fish home for dinner. She is the only one in our family who likes fish. Swedish fish, and gold fish (crackers) are the only fish I eat!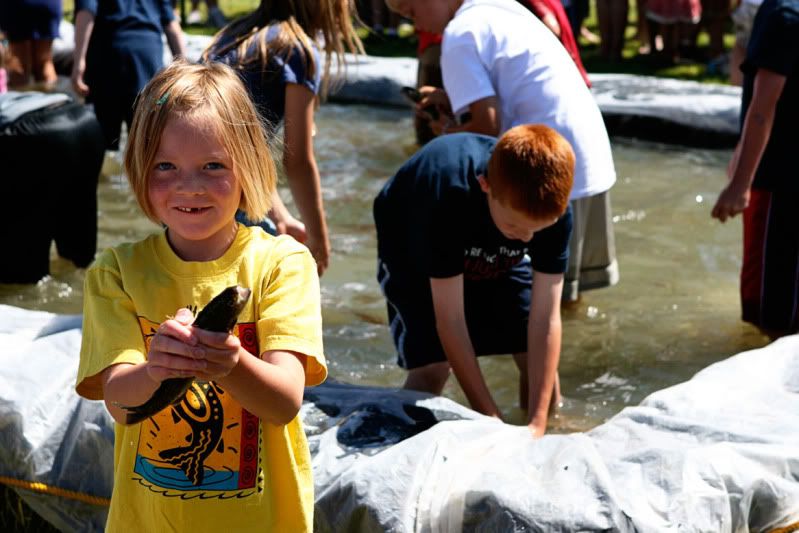 Getting back to traditions, the second part of our 4th of July tradition involves cars. They have a car show in the city where JM grew up, and it is always an awesome sight.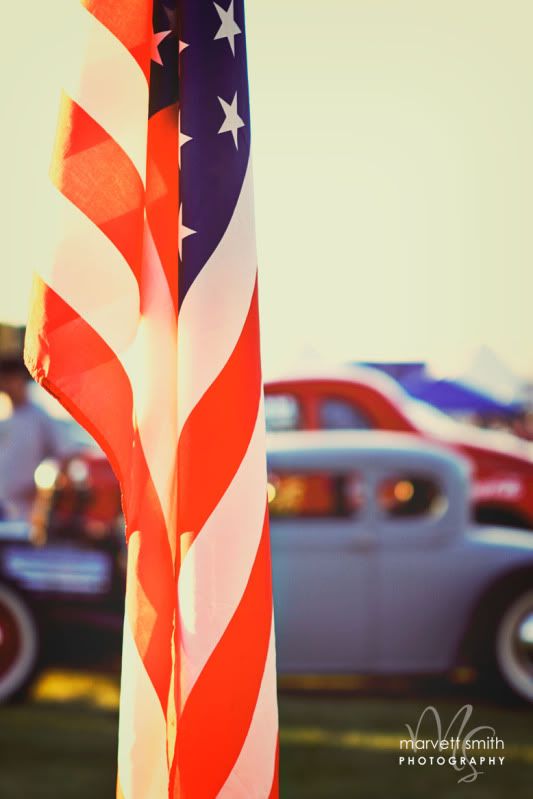 The cars are lined up in rows, and there are so many different ones to see. It is amazing how much work goes into restoring a car.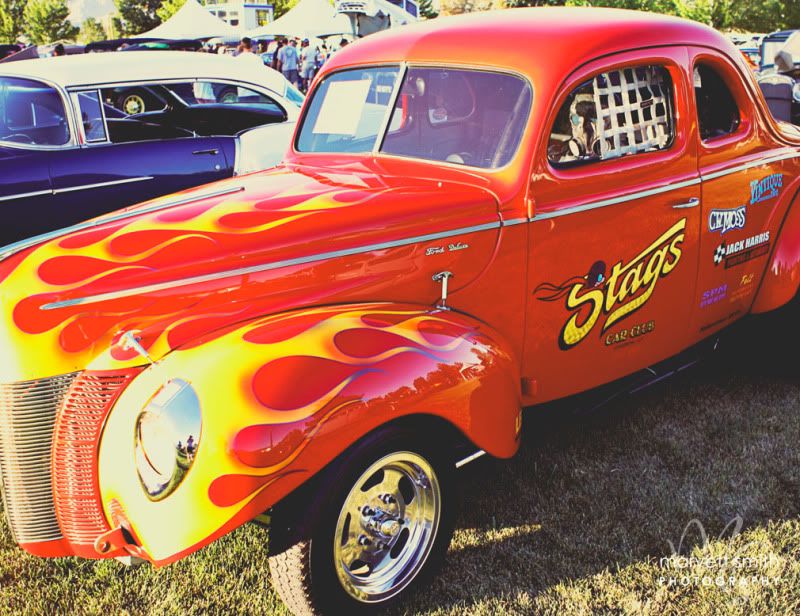 There are cars of every make and model.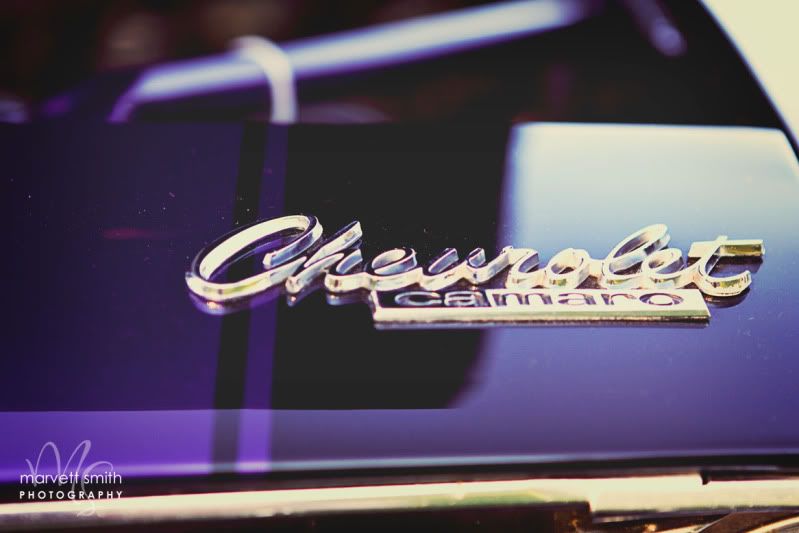 Even Doop's favorite little tow truck made an appearance this year.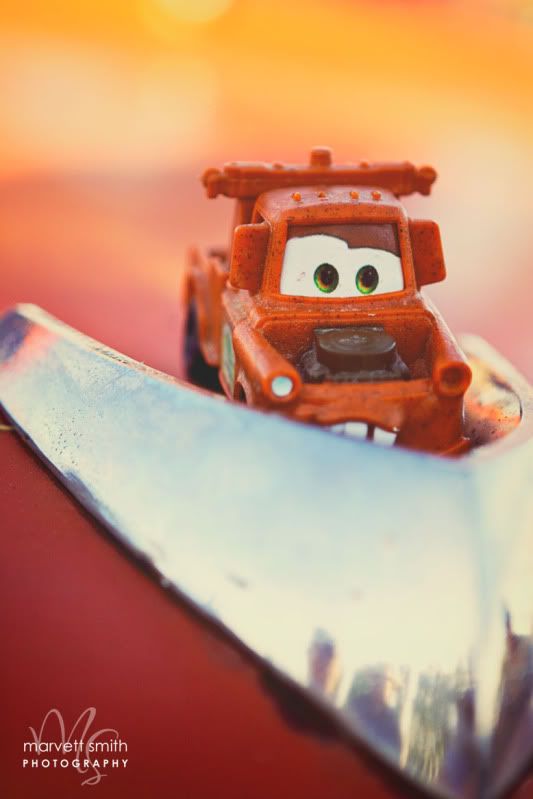 There are so many details, and beautiful paint.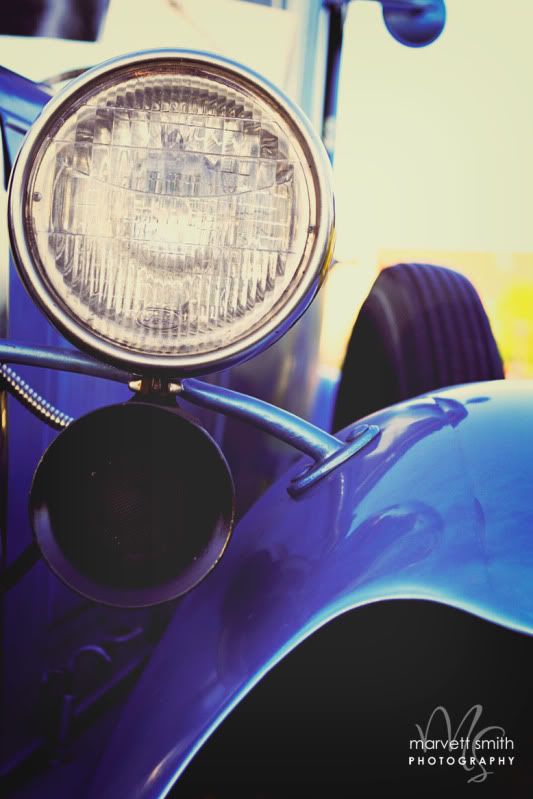 This old Dodge truck was my favorite this year. It had so much character.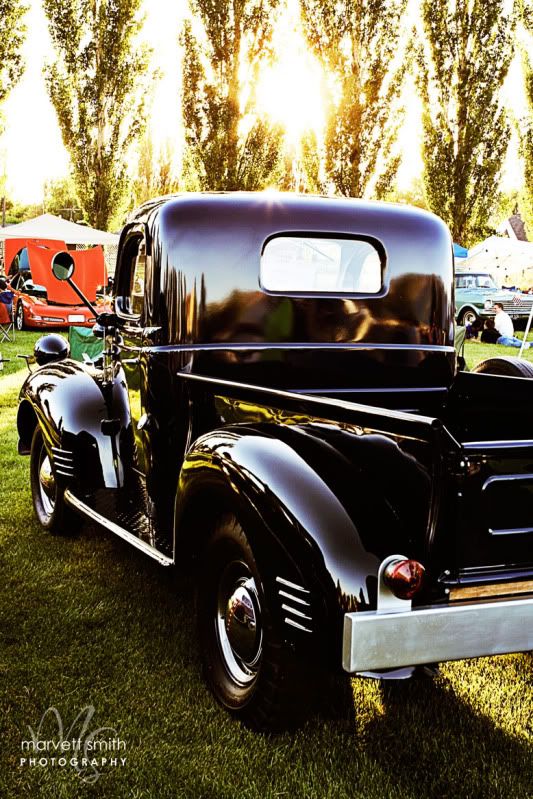 Some of the older cars are a work in progress, but as you can see they still bring people together. They all have stories to tell about the experiences and memories brought back by their presence.
It really is like taking a walk back in time.
Seej and I couldn't resist having some fun with the reflections produced by one of the bumpers.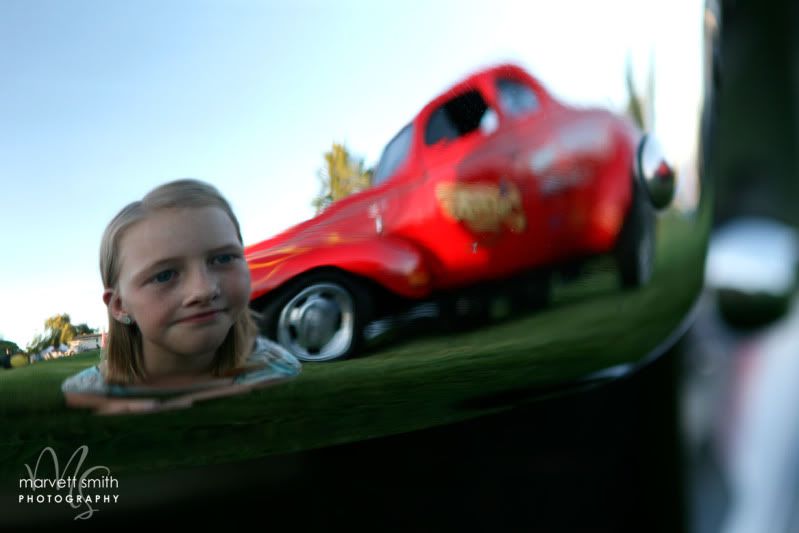 Fun huh?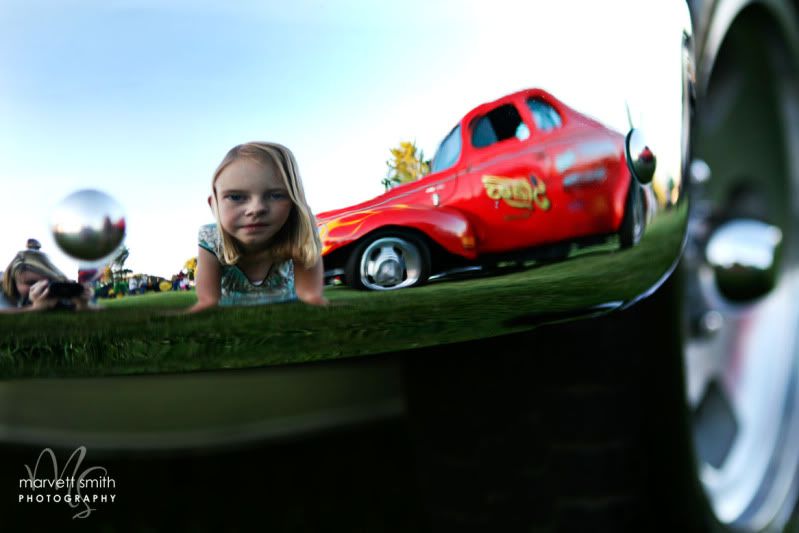 And then the whole family got involved. This is the most recent family picture we've had in a long time. That's what traditions do though. They bring us all together.