This has been a long week. A week of waiting. It all started at the beginning of this week. A visit with my parents. My dad complaining of pain. My mind perplexed by this unusual occurrence. A trip to the ER two days later.
Now taking my dad to the hospital is not out of the ordinary. It usually happens yearly and we count our blessings when the stretches in between are longer, but as much as it happens I never get used to it. Each time my mom and I wait. We wait with baited breath to hear what the outcome is. My mom waits for the worst while I pray for the best, and we wait.
This week was no different. We entered the ER at 8:30 a.m., and we waited. Several tests were run, and my dad was his usual self. He is always lighthearted and hopeful giving the hospital staff as much flack as possible. His humor always eases the mood and makes the wait bearable. At 5 p.m. he was admitted to a room. The first stage of waiting complete.
Now it was time to wait for all of the test results and to see how he would respond to preliminary treatment. I think this is the hardest part. The not really knowing, but his humor continues and he remains a stalwart. My mom's mind runs rampant during this period of time. She comes up with a million different diagnoses for him and they are always the worst case scenario. The waiting is the hardest on her.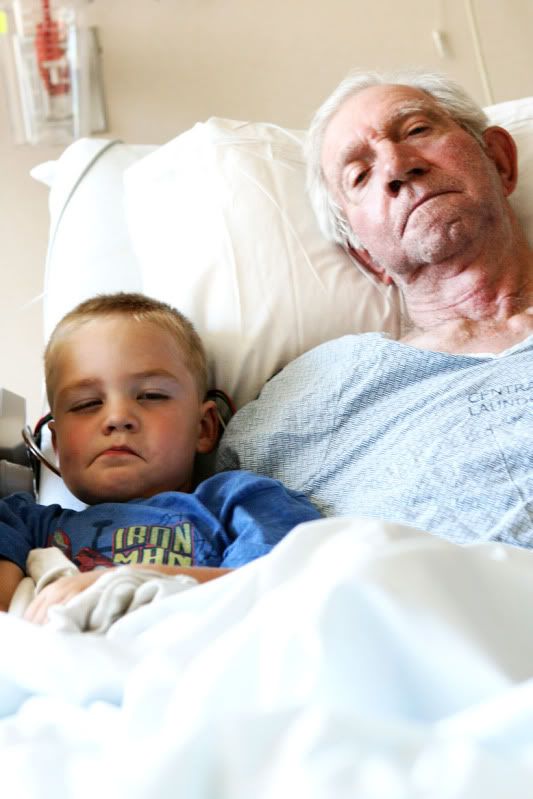 And although dad is the toughest man I know, the waiting starts to wear on him as well. The best dose of medicine during these long hours is a visit from his three favorite little people. Nothing heals him like this does. Everything about him changes when they enter the room, and his spirit is immediately soothed by their presence. His mind wanders from the waiting as he listens to their stories, and soon he is wanting time to slow down even more so that the time they spend with him is longer.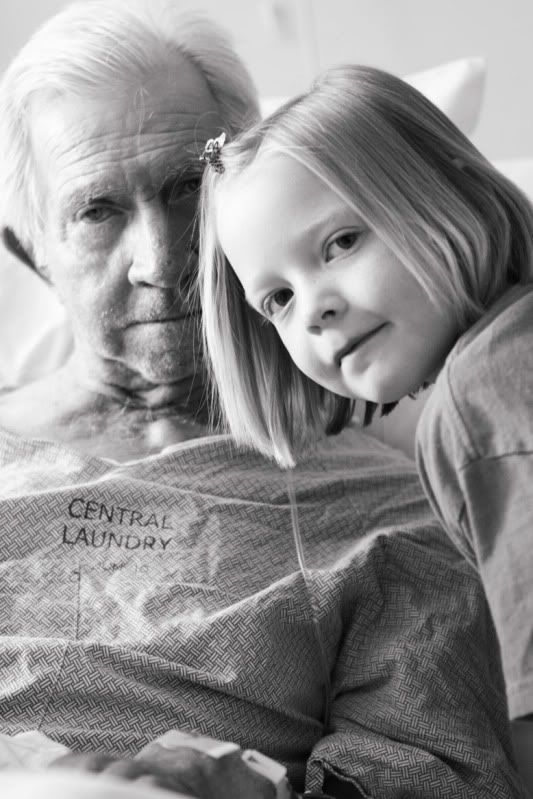 His constant teasing and bantering with the nurses soon bonds him with the people who take care of him, and this eases the waiting a bit as well. He looks forward to them working again. He knows where they are from, what they like to do, and how many kids they have. He is truly talented at being a delightful patient, and even they are amazed at his strength.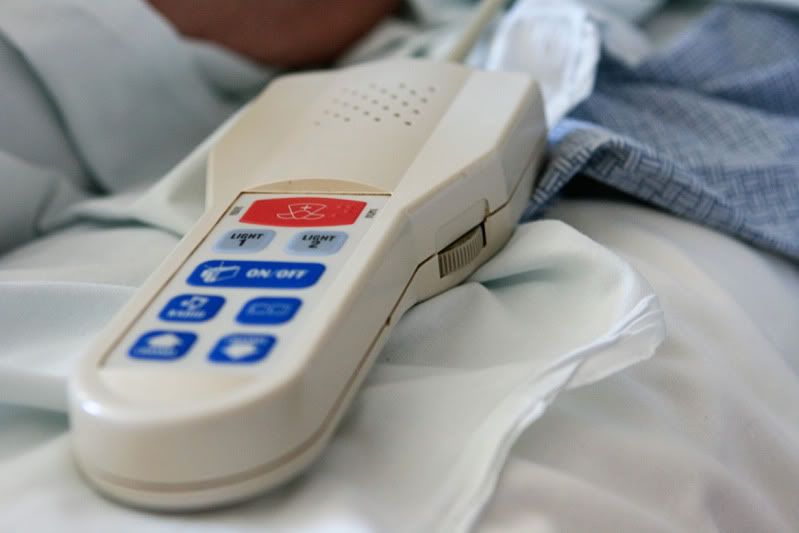 His demeanor and attitude at times like this is a great example to my children. This whole waiting thing isn't easy, but he sure makes it look that way. I hope they remember these times when they have to do waiting of their own.

Eventually a diagnosis comes, or at least a version of something really close to a diagnosis. Sometimes it's difficult to figure out what goes on inside the body of a man who is an enigma. His physical tolerance for pain baffles the medical professionals and often times makes a diagnosis a harder thing to target, but the lab work helps and we start the next period of waiting. Waiting to see which treatment is best, and which approach to take first. This part is always scary too. What will it be next, how devastating will it be, and how will life change. Of course mom has already headed down this path and back again several times. The rest of us have briefly thought about it, but we need concrete facts to move forward and so the waiting continues.
It's funny as I look back on life that my frequent statements always included how I couldn't wait for things to happen. I couldn't wait to get out of school, I couldn't wait to get married, and I couldn't wait to have a family of my own. Time couldn't move fast enough back then, and now all I want is for it to slow down. It seems to be slipping away faster and faster all the time. This whole waiting thing has been a blessing. The world seems to stop even though it keeps going when things like this happen, and it always causes me to reflect on the important things in life. In that sense I guess this whole waiting thing is good.
In the meantime, we take advantage of spending time together because it makes the waiting easier. Especially when two good buddies get together to talk and catch up on the events of the week. Even the waiting cannot keep dad from smiling in times like these. This is exactly why families are so important. Waiting together is so much easier than doing it alone, and so we will enjoy the waiting as much as we can.