Today is my anniversary. No, not the one you are thinking about. On this day 16 years ago I was in this spot on the earth. High on the mountaintop with the people I loved.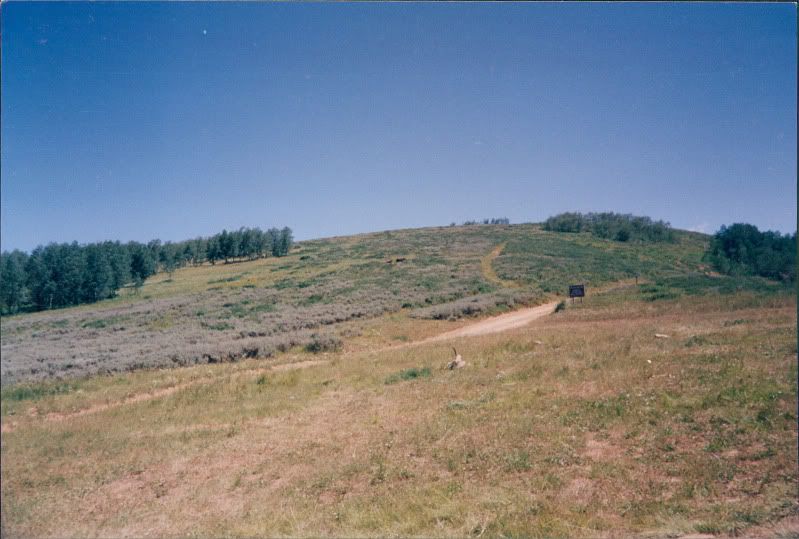 It seems like forever ago. A time when we were young, and invincible. When my dad had two legs and hands that worked. A time when I was in the best shape of my life and preparing for my senior year of collegiate volleyball. A time when I thought I knew who I was and what I wanted out of life.
But this was a time when I was only partly right. I didn't know what was ahead of me. This picture was taken just hours before my horse fell on me changing my life and the path I would take forever. It happened in the background of this picture just beyond the trucks as a sheepherder traveled down the dirt road towards us. I have only been back to this place once, and it made me physically ill. I haven't attempted it again.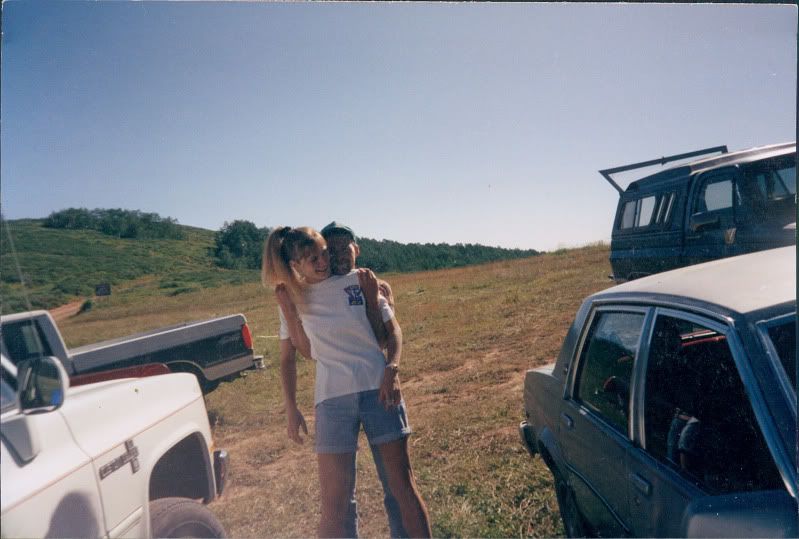 This is the sheepherder who was in that truck. He was the voice of reason in a time of chaos and fear. He stayed with me and my family until the Life Flight came. He was rock solid, and so kind. I hope that someday if my children are ever in this type of situation that they have an angel to come and help them as well, and more than that I hope that they can be one for someone else like this man was for me. He has made a huge impact on my life, and unfortunately I wasn't able to thank him in person since he passed away a few months after my accident due to complications from pneumonia. He was young, and left a young wife behind. I was able to meet her at his viewing and tell her thank you for her husbands kindness. A few years ago she sent me this picture so that my children could remember him as well. I am so lucky he was part of my life even if it was only for just over an hour.

This is me a month or so later. At home in my bed recovering. A place I thought I wouldn't ever be. A place where my dad stayed with me every day while my mom went to work. A place where he took care of my mending body, and a place where he encouraged the mending of my spirit. I was broken, but not defeated. I was determined to return to volleyball, to have children and to live life even though I was told that these things would not be possible.
But sometimes God has a greater purpose for us, and sometimes miracles happen. In my case I have experienced several. I have felt the love of those around me, and I have been carried through times when I couldn't walk on my own. I have felt the support of my best friend who stood by my side day in and day out from the moment this happened, and he continues to stand by my side today. I have held three newborn children in my arms and heard their voices call me mom, and there is no sweeter sound that could fall on my ears. I have shared the volleyball court with champions before and after this day, and although they may not hold trophies in their hands they hold a piece of my heart because of their love and continued support. I have lived, and loved, and felt pain and happiness and cherished each moment of every experience. I have served my parents as they served me and reminded them of my debt when they have felt like a burden. I have seen beautiful things and appreciated the chance because I have first hand experience with thinking I never would again, and above everything I have learned. I have learned that the important things in life aren't rewarded with trophies and accolades. I have learned that time is the best gift we can give one another, and I have learned to focus on today because today is what we have and we can never get it back again once it is gone. I have learned to get up again, and again, and again. I have learned to focus on the task and continue until it is complete. I have learned that sometimes winning doesn't mean being first, but winning means finishing. I have learned that God loves us, and He wants us to be happy. I have learned that I can accomplish anything I put my mind to doing. I have learned that family means everything, and they always come first. And last but not least, I have learned that "Success is not final. Failure is not fatal. It is the courage to continue that counts." - Winston Churchill
One more thing. I have learned to look around because there is beauty everywhere. Beauty I didn't see before. So with that I will leave you with some of my beauty from this week and a quote that I love. "Life is full of beauty. Notice it. Notice the bumblebee, the small child, and the smiling faces. Smell the rain, and feel the wind. Live your life to the fullest potential, and fight for your dreams." -Ashley Smith