It finally came around. Doop's first day of school. The day he had been anticipating for so long. Was I sad? Not really. You see he still doesn't get to go to the big school yet. We are just getting him used to the fact that he is growing up, and sooner than later he is going to be stepping on that big yellow bus for real and he needs an opportunity to have some time away from us. So for now he will attend school one day a week. Doesn't that sound joyous? One day of school per week with no other worries or responsibilities. This is his life and believe it or not sometimes he does think it's rough and for a little guy it probably is, but deep down I know he really loves it.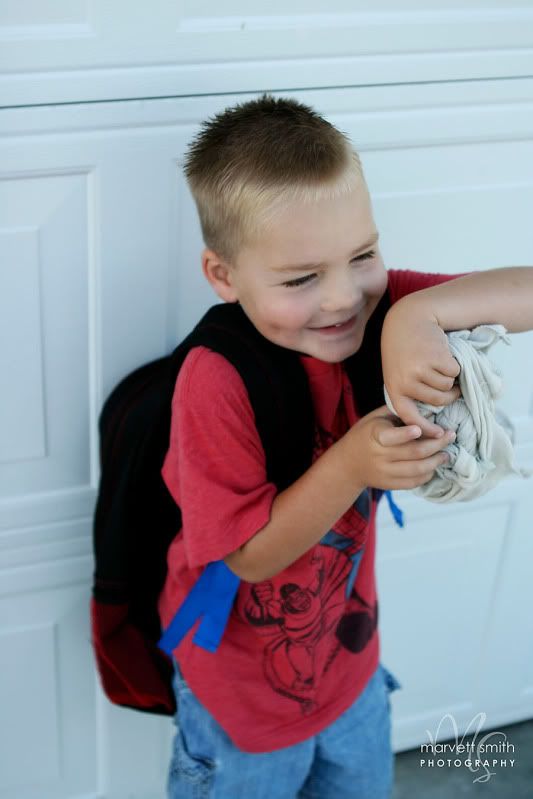 Because this was his big day I wanted to get a picture of him before we headed off for school. So he donned the backpack and we headed outside just as we had done with the girls a week earlier. We were set to take a good picture and then some geese flew over head. I can't blame him for being distracted. Going hunting with his dad is something he is dreaming of, and he practices spotting fowl in the sky any chance he gets. Besides, actually noticing the world is what you do when you're his age. It's acceptable, and I'm okay with it. I hope to do it more myself.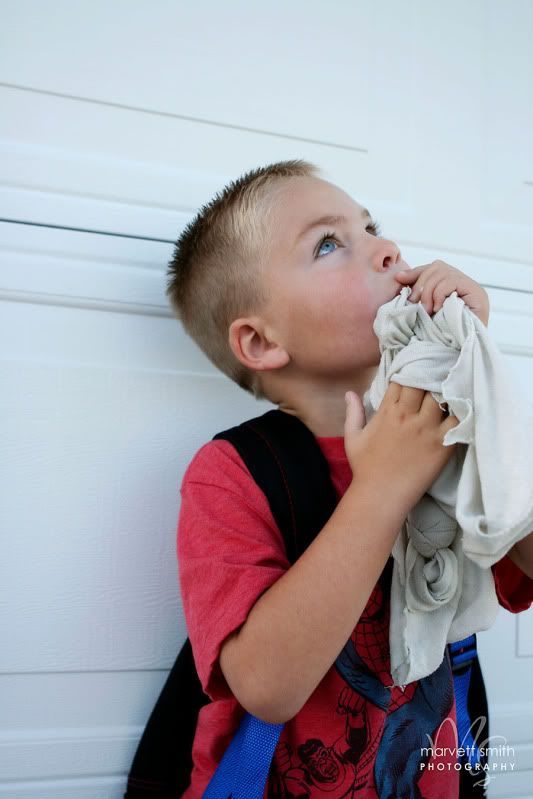 Prior to school starting Doop came to the store with the girls and I so that he could gear up too. I thought for sure that he would choose a Spiderman backpack because well, Spiderman is the man. He is Doop's own personal hero assisting him in potty training, and constantly helping him face his fears. Notice the shirt on his back. First day of school = fear, and Spiderman literally has Doop's back. When choosing a backpack he did start out with his favorite superhero, but then he noticed this Transformer pack. Not only does it have flames on the outside, but it has magical lights that dance and burst whenever he moves. How much more exciting can the backpack developers get? Doop could not take his eyes off of this one, and taking it home was a must. So on the first day of school he proudly placed the Transformers on his back knowing absolutely nothing about them except for the fact that they must be cool.
After showing off the backpack for me he then turned around and gave me the skunk eye. Yes, this is the skunk eye. It's totally Doop. It encompasses who he is and sums his personality up all in one genuine, half-crazed, disturbing look. This is my son, and I love him. He may regret giving me the skunk eye when he is older and realizes that I have shared this look with the world, but it will be worth the pain that I may one day face because right now these are some of my very favorite moments with him.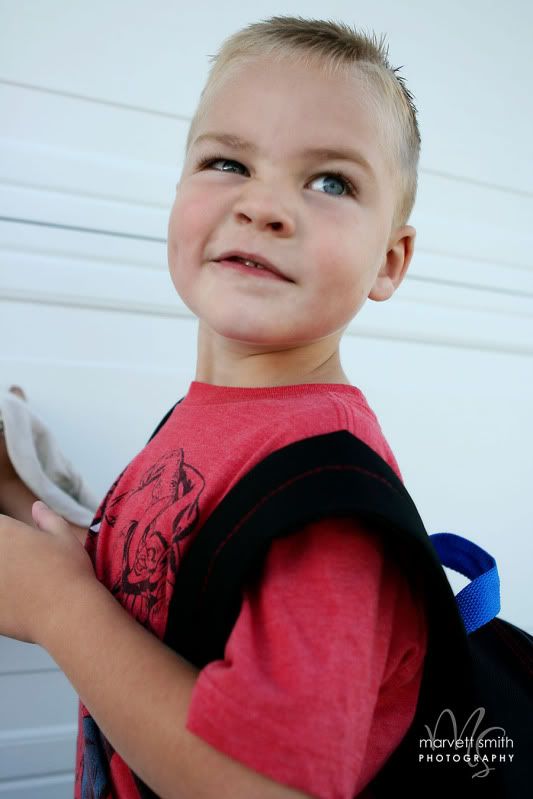 Doop was definitely ready to get on with the day. He had suffered so much in preparation two days prior that he was hoping that school would be outstanding to make it all worth it. When I say he suffered I mean it. He had to make a visit to the Dr. to get several shots that he was behind on, and while he was there they decided it was necessary to do a hearing test in addition. The bad thing for Doop was that the machine wouldn't read because his ears were so compacted with wax. This meant having his ears flushed followed by a bit of digging to get it all out. It was an awful experience that I hope we don't have to repeat. Ever. He was tough though, and he did it so he could go to school.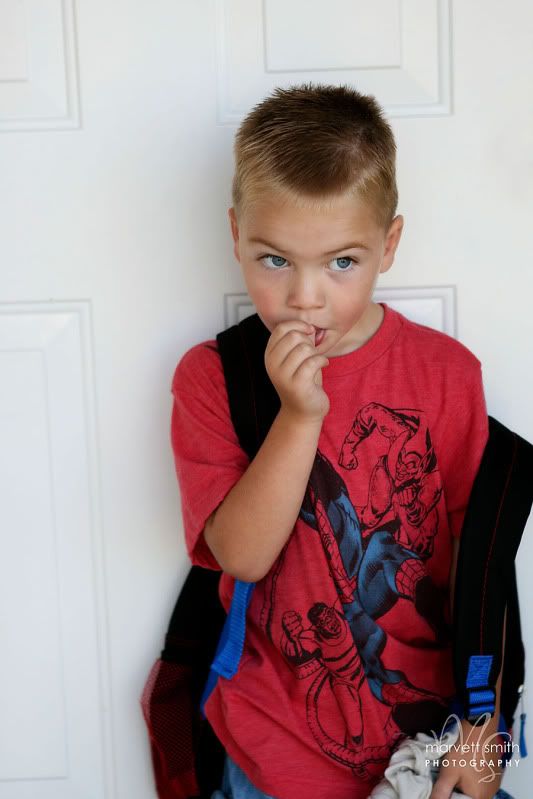 He is becoming a big boy. Yes he is still sucking his thumb, and yes he is still carrying his blanket that now looks like a rag, but I'm okay with it. He is my baby, and so he gets a little more slack than the girls did. They will complain about it now and then they will grow up and become mothers someday and have a baby of their own. It will be then that they will understand all too well what it means to have a baby, and how their baby will always be their baby no matter how old they become. It's just the way it is, and this image will forever be in my brain. Him sucking his thumb, rubbing his rag on his nose, and batting his long eyelashes. He looks so sweet.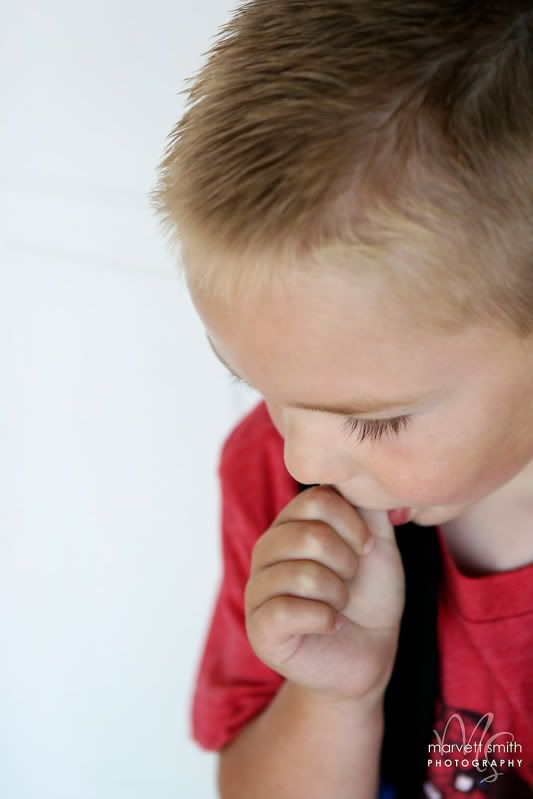 And in a second he looks up at me and the sweetness is gone. It is replaced with this. It's good because for a minute I was getting sappy and this helped snap me out of it. It's hard to get sappy with this face, but I still love this punk.
And so I will take him to school each week where they will peel him from my leg and I will leave him screaming and begging for me to come back because that's pretty much how it went on this day. We will repeat it again next week because I love him and I want him to learn that it's okay to be away and make new friends and grow. I want him to know that it will be fun when I pick him up and that I will love hearing about his day, and I want him to know that I will miss him twice as much as he ever misses me. Because that's what moms do, and it's the best job ever!