A couple of weeks ago I went on a fieldtrip with Seej. We ventured into the mountains with her class to learn how to utilize a GPS system, go on a scavenger hunt, do a little hiking and last but not least shoot a bow and arrow. I must admit I was a bit nervous to hang out with kids her age holding weapons, but it turned out to be the best part of the fieldtrip. We discovered that Seej is very talented with a bow in her hand, and that she has a very good eye.
This was taken during her fieldtrip. The target was placed up on the mountainside and we shot from down below. My girl didn't do too bad. Not bad at all! And, by the time the fieldtrip was over she was completely in love with this new sport.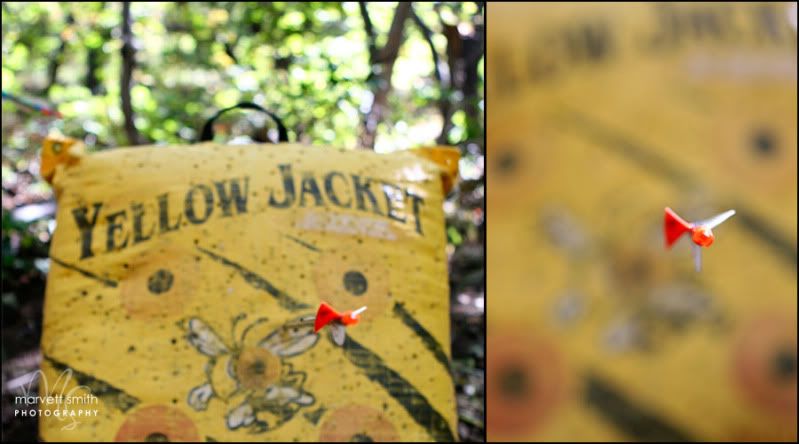 JM was excited to hear of her new love and Lou and Doop weren't disappointed either, and so we purchased a new bow and our very own arrows for some fun family time together.
It took Lou a minute to figure things out, and although she became discouraged we cheered her on from the sideline and eventually she was successful. Doop was his usual self full of antics and entertainment, but he was serious about the rules and he did well also. Seej couldn't wait to show everyone her stuff, and we followed her lead taking turns shooting the target.
The haystack was a pretty big target, but everyone managed to take a turn lodging an arrow into the sack. Seej even managed to shoot an arrow right in between two bales of hay securing it in the center of the stack where it will remain until the horses manage to widdle the haystack down and reveal it.
We had a visitor who frequently stopped by in between each round of shooting to land on the end of the arrows. He was beautiful.
This was a great family activity that we will continue to enjoy. Amazing what a bow and arrow and a little time together can do.