We are starting a new tradition at our house this year. It's all about the Advent. In the past we have done the chocolate advent calendars. Each of the kids have had their very own to open up each morning. Last year it worked out well because it motivated them to get out of bed. Well, I should say it worked out well for the majority. I think Doop ate about 6 days worth of his calendar on day one, and 3 more days worth on day two until I realized what he was doing and I had to take it away. He was pretty sad for several days as he watched his sisters enjoying their chocolate while he waited for the days to catch up with how much he had already eaten. Anyway, this year I thought it would be fun to do something a little different. So, after some online searching I finally found the Advent calendar that I thought would suit our family the best.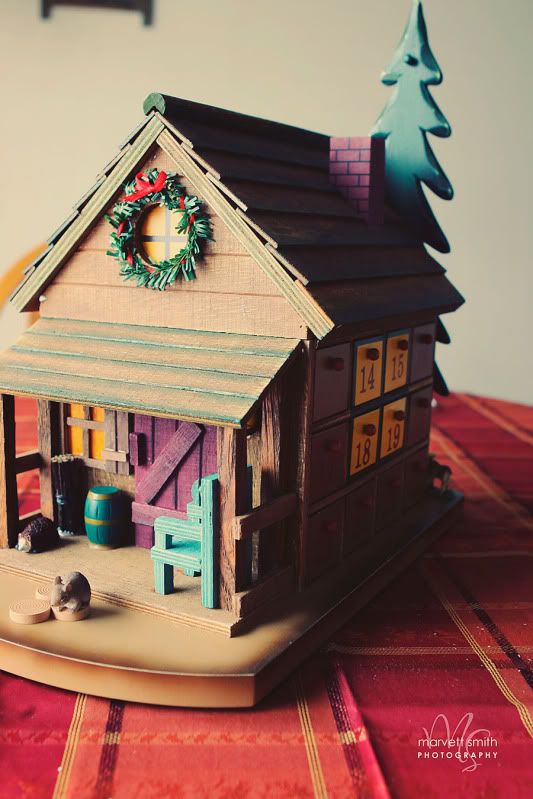 We had a bit of catching up to do in regards to opening the doors since it didn't arrive until the 4th day of the month.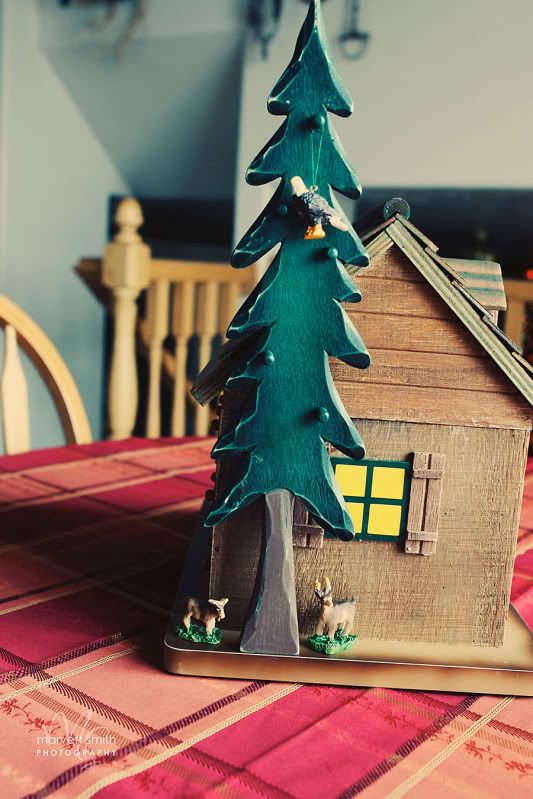 Behind each one of the little doors is a different animal that can then be placed around the outside of the cabin. We let little Doop be the first to open the first door, and behind it was a moose. His second turn revealed a deer.
And so it has become a bit of a game. Each morning when the alarm goes off and the hooligans get up we race downstairs so that someone can take a turn opening a door. However, the really fun part is trying to guess which animal will be waiting before it is withdrawn from it's home.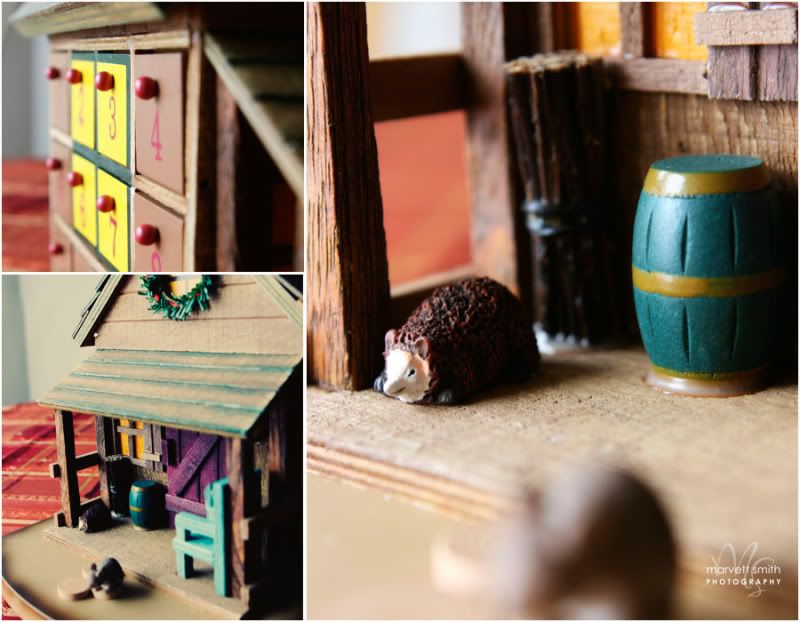 It's also been fun finding a new home for each of them after they are plucked from their hidden space. This little cabin has so many spots to place them from the front porch, to the tree, to the chimney on the roof.
That's exactly where Rachel the Raccoon landed yesterday morning after Lou pulled her from her door. My girl Seej took it upon herself to name each of the animals and make a tag for them so that we don't forget who they are next year when the Advent calendar is pulled out. This is a step I wouldn't have taken myself, but she's into those kinds of details. It's just in her make up.
Overall the Advent calendar has been a total hit, and I'm hoping to step things up a notch by this time next year. I did take the time to sit down and map out a family activity to be hidden behind each of the doors as well, but as my life goes time has slipped away from me and I didn't have the opportunity to place the papers inside with the animals. I do have the list though, and so we will be doing as many of those activities as possible between now and the New Year.
Those are my favorite traditions. The ones that involve us spending time together and making memories, and this little Advent calendar is already assisting us in doing just that. I can already tell that it is going to get a ton of attention between now and forever, which makes this purchase so much more than worth it!