A couple of weeks ago JM and I took the girls to see David Archuleta. He was here singing with the Mormon Tabernacle choir for the annual Christmas Concert at Temple Square. This is the first year that we have attended the concert together. Last year Seej and I went alone, but this year Lou was old enough to accompany us as well. This meant lots of fun with the four of us together, but it also meant that little Doop would be left out of the excitement. He had school on the day of the big event and I was hoping that the opportunity to do fun things at school would override his disappointment of not being able to spend time with us. It worked....for a while.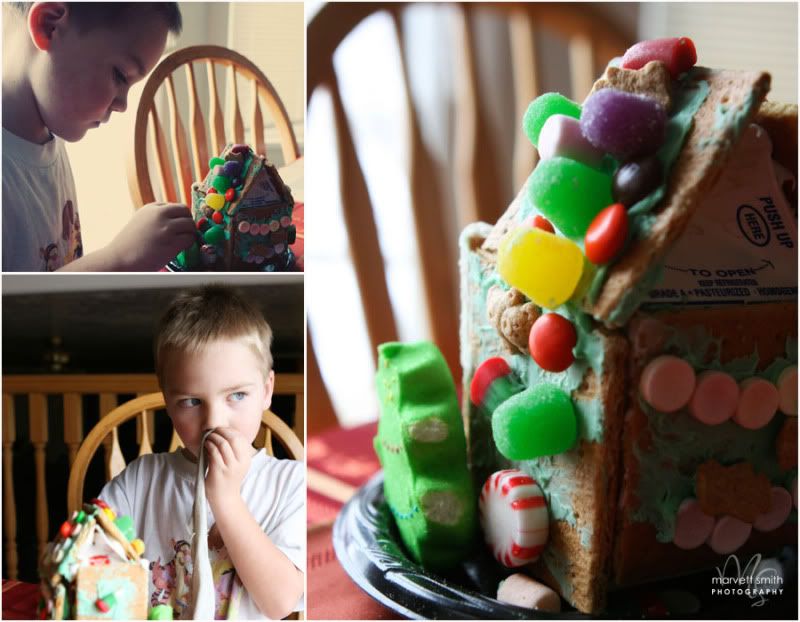 He was pretty excited to create his very own gingerbread house. I think this was due to the fact that he couldn't wait to tear it apart and eat it.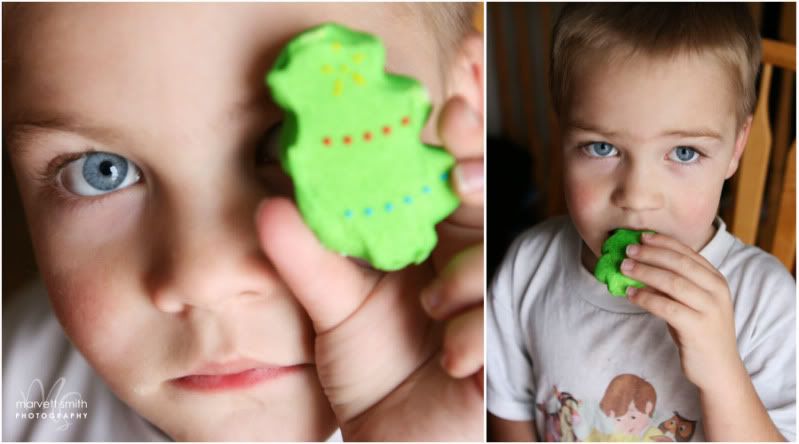 As the girls started getting ready to go though, he started to get sad at the fact that he couldn't go. He even thought up an idea for me to sneak him in. He said I could put him in my coat and zip it up. I could find my seat and then unzip my coat far enough for him to see the show and when it was done I could zip it back up and they would never even know he had been there.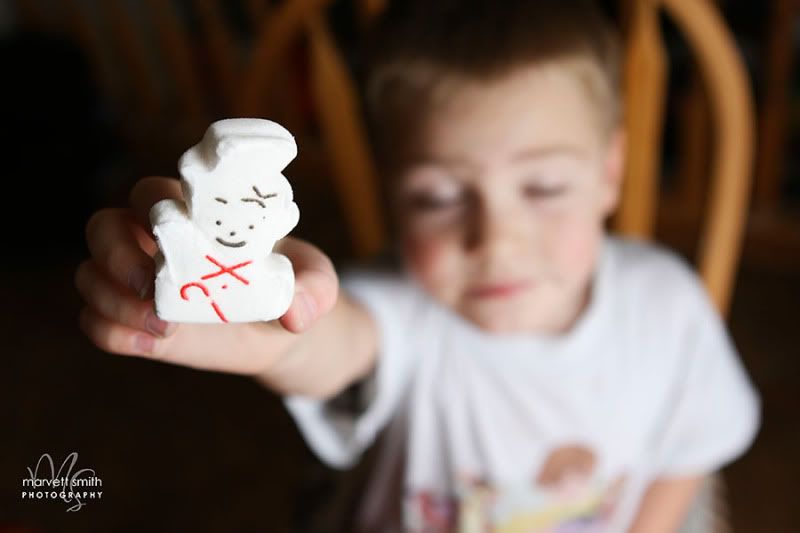 He said it in conjunction with this face. Go ahead take a good look. This is the face that turns me to mush.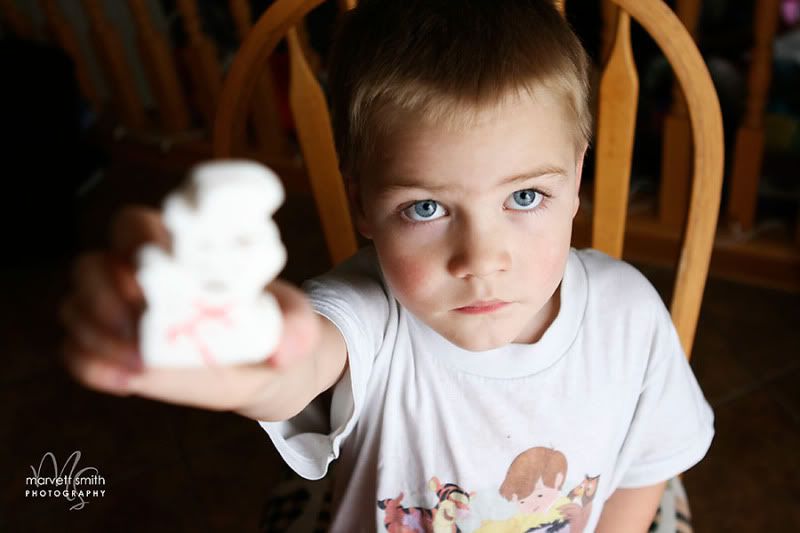 Once I snapped out of the guilt ridden mess of giving him the final no I helped the girls get ready.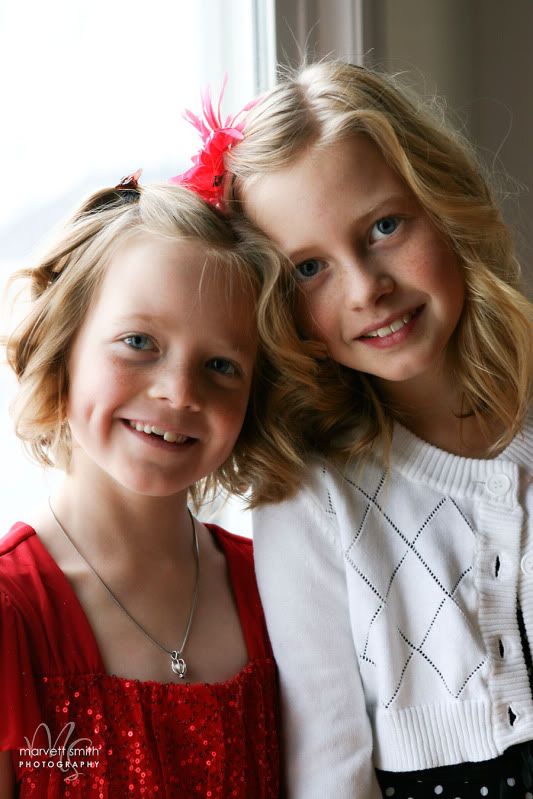 Grandma Rue surprised them with an early Christmas present. They each received new Christmas dresses.
And when they were ready we were off to Temple Square to meet JM. After eating dinner together we attended the concert. It was a hit with Seej as it always is, and it pained me to hear how "hot" she thought David Archuleta was. Ugh. I can't stand that she's growing up. As for Lou, her favorite part was getting dressed up and eating together. It made her feel special.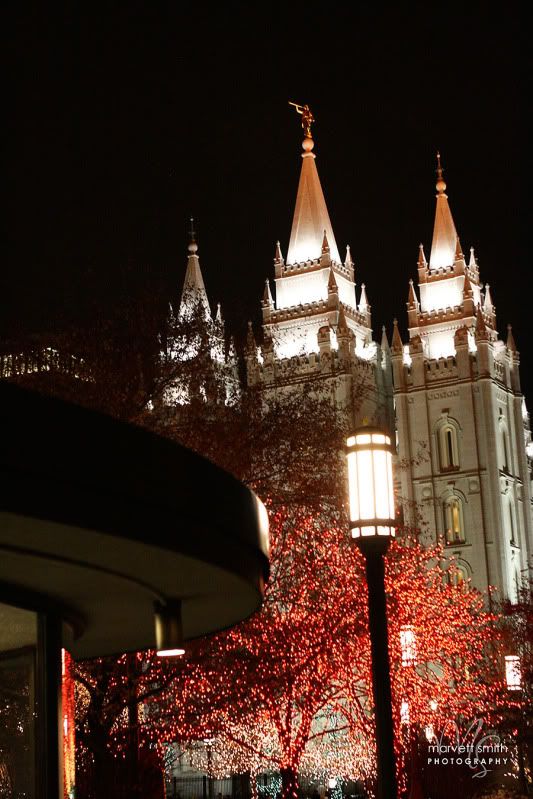 When the concert was over we took a quick stroll through Temple Square to see the lights.
I say quick because it was cold, but it was definitely worth seeing. It was beautiful.
And you'll be happy to know that Doop survived our special night with the girls. I'm glad he did!