He did it. As you already know my little man did it. He made it through his very first graduation.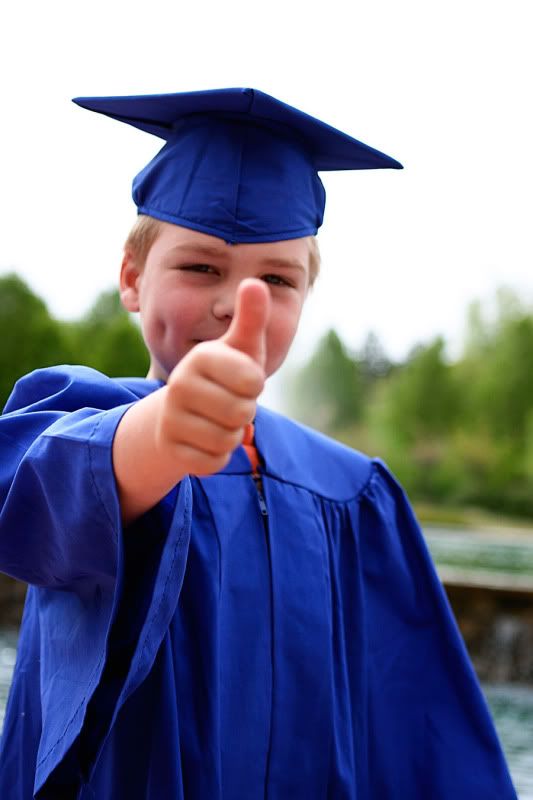 I can't even begin to tell you how proud I was of him on this day. This has been a tough year for him. It's been tough from start to finish. On day one he held onto my leg and he cried. The crocodile tears leaked from his eyes and he cried out for me as they peeled him from my leg and I left him at school on his very first day. It was awful, and yet he needed to do it. He needed to know that he would be safe and that he could make friends and that it would be okay. As tough as it was he did it. For almost six months we repeated this same routine over and over and as awful as it continued to be he did it. Even on this day, his last day, he struggled. He began to panic as the graduation ceremony started. He doesn't enjoy being in front of other people. It is scary for him, but as much as he didn't want to do this he did. Once again he pulled his bootstraps up and did it even though it was really hard, and when he walked across the front of that room to get his diploma I wanted to cry.
With the official graduation over we all headed outside for the balloon ceremony. The school allows all of the graduates to release a yellow balloon to represent a fresh start. It symbolizes them moving on to bigger and better things and the sky is the limit. This part of the program was a little more exciting for Doop. This is a place where he could mix in with the crowd and not be as noticed, but that didn't keep me from watching his every move. He relaxed once he was hidden inside the group and he started to have fun, and when I saw his excitement over his hard earned accomplishment I wanted to cry.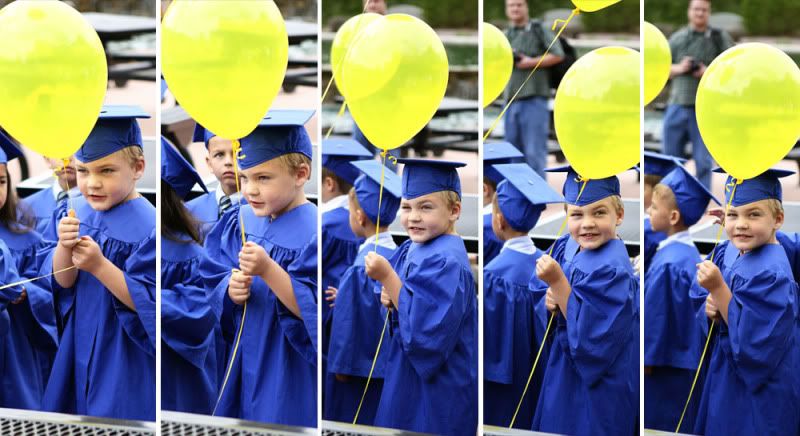 As he waited for the teacher to give him the final word to let go, he started talking with his friends. He started laughing and sharing his anticipation with one little friend in particular.
He looked at her and he giggled.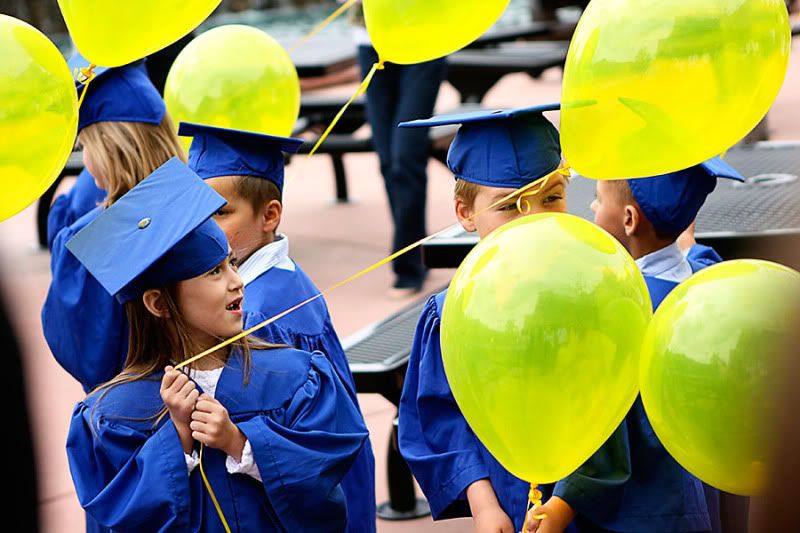 They squealed with anticipation as they waited to let their balloons go.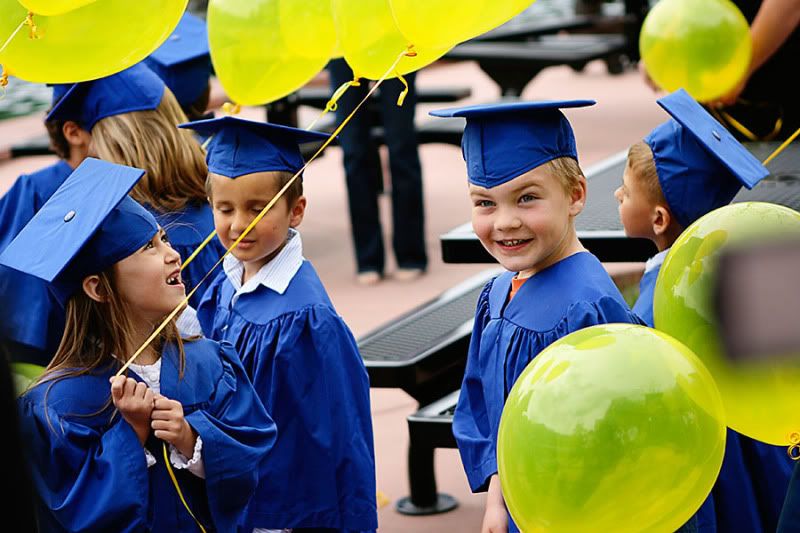 He relaxed and he had fun and I watched how happy he was with the friends he worked so hard to make, and once again I wanted to cry.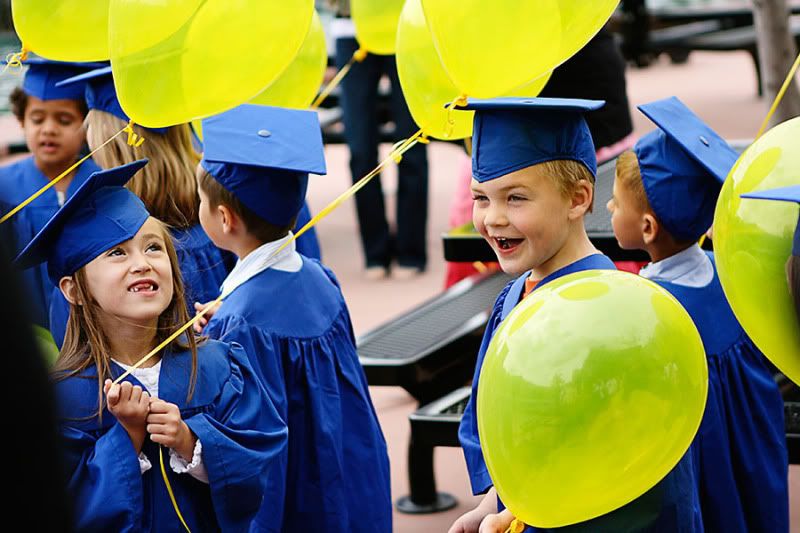 And finally the time came when the teacher called out that it was time to release the balloons. As fast as the words came out of her mouth I saw Doop close his eyes and his fingers sprang apart. Just like that his balloon floated away. Just like that he turned and he watched it drift into the sky, and as he did it his face beamed. It beamed with dreams and possibilities as he watched that yellow balloon fade away, and my heart skipped a beat as I realized it's getting closer and closer to my own time to let go. Happiness and sadness overwhelmed me all at the same time as I watched my boy take one step closer to growing up and one more time I wanted to cry.
He ran back to my side when his balloon was gone and he proudly asked me if I had witnessed what he had. I hugged him tight and he gave me a thumbs up, and we quickly moved on to the refreshment line.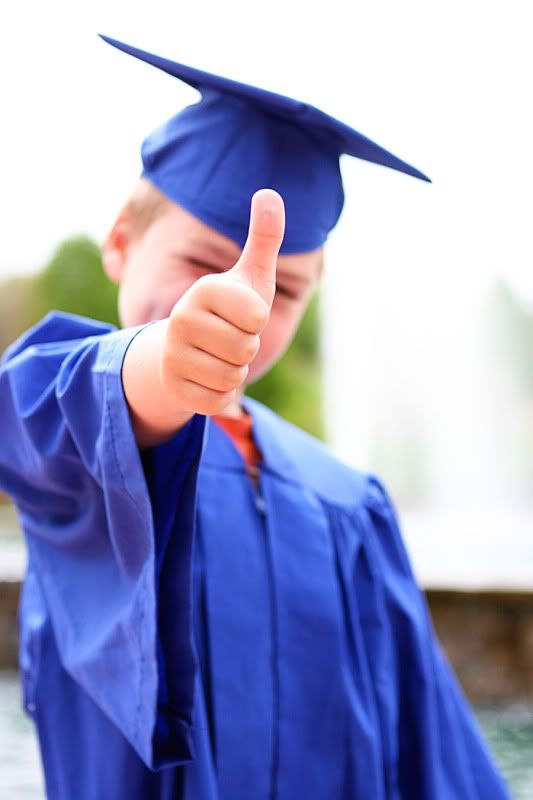 He tugged at my leg and then whispered in my ear and he asked if I would take a picture of him with Teacher Maria. Teacher Maria was the main teacher in his classroom, but she didn't work on the day that Doop attended school. She did visit with him several times though, and in those very few visits my little man fell in love with her. Her kindness, her smile and her sincerity won him over and watching him squirm over her made me smile. Teacher Maria's eyes filled with tears when he asked for a picture with her. She was touched that he was so smitten with her in such a short amount of time and seeing the way it made her feel made me want to cry.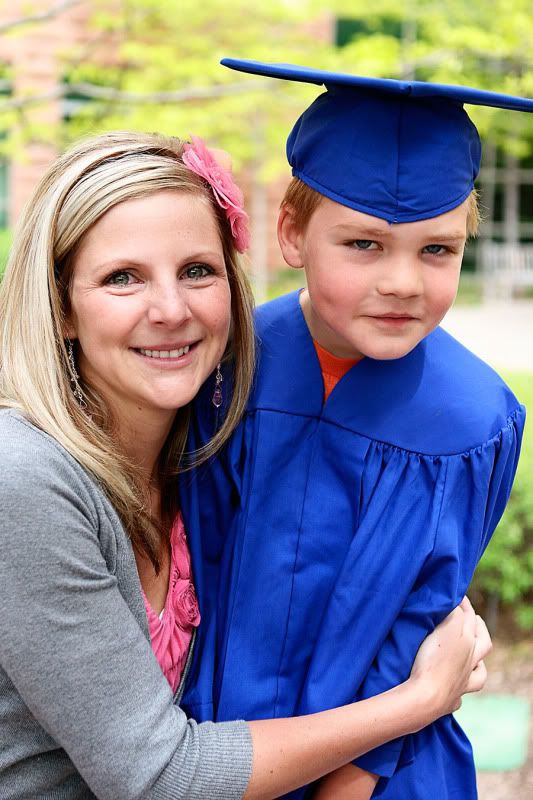 When all was said and done Doop's only disappointment was that his real teacher was not in attendance. She was working at the school that day. She was teaching the younger students while he was graduating, but on our way out he got the best surprise of the day. Teacher Jan came. She came at the very end of graduation and he quickly ran to greet her. It took some persuading, but he talked her into a picture with him as well. They sat on a bench under a tree and they quickly began talking about the day. It was like watching old friends who had to catch up after a long time apart. He told her stories and she laughed. She laughed with a sincerity and love that touched my heart. I could see her love for my boy in her interaction with him and this time I couldn't hold back anymore. I cried. I cried with gratitude for her willingness to take care of him, and because she went the extra mile to make him feel safe every time they peeled him from my leg. I cried because she is special and so is her relationship with Doop. I won't ever forget her and I know he won't either.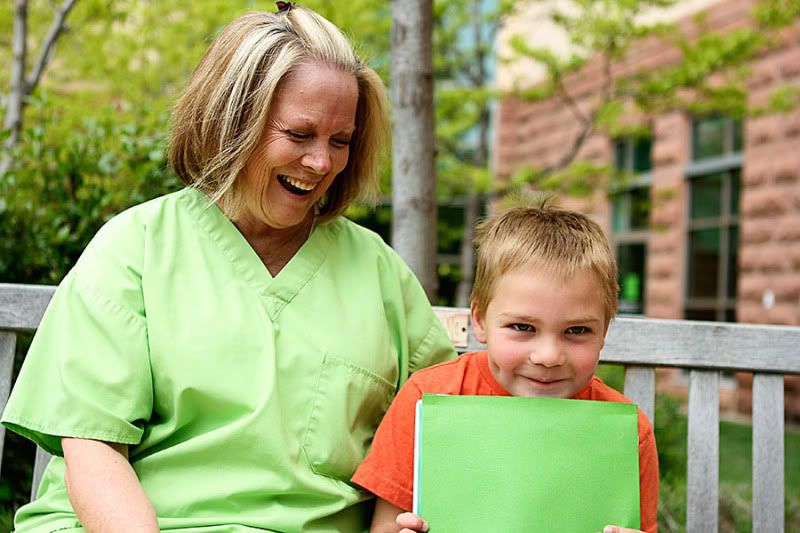 It was a good day, and I was so happy to share each and every second with my boy. I am so proud of him for going to school. I am so proud of him for graduating. I am so proud of him for learning that he can do hard things. This is just the first step for him in many exciting things to come, and although thinking about those things makes me want to cry I can't wait to stand by his side as he accomplishes big things because that's exactly where I will be. Holding back the tears and beaming with pride. I love you Doop. You did so good!