So the day finally came. The day the hooligans have so anxiously been waiting for. The day came when they finally all had the opportunity to go to school together. It was finally their chance to experience everything all at once. From getting ready in the morning to walking to the bus stop to the actual bus ride itself. It finally happened, and they were thrilled. They promised me that I could get a quick shot of them before we all parted ways, so they all gathered together on the porch. There was a bit of complaining about the squeezing in tight and touching one another, but I didn't think it was too bad.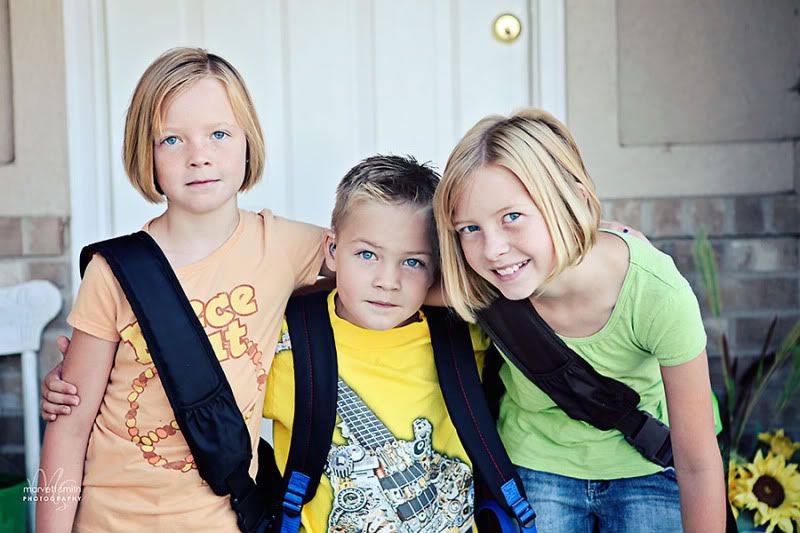 Then the best part of the whole day for me came. Doop put his foot down and demanded that the girls do better. The shot was not acceptable for him, and so I had them kneel down next to him. He quickly flung an arm around each of his sisters and pulled them in close saying, "get in here and smile. I want a good picture of this so I can remember this day forever". That's a direct quote from his little first year of school mouth, and it's one I will keep tucked away in the corner of my heart forever. He had worked hard for this day. Really hard, and he wanted it to be perfect. He was right. This one is much better.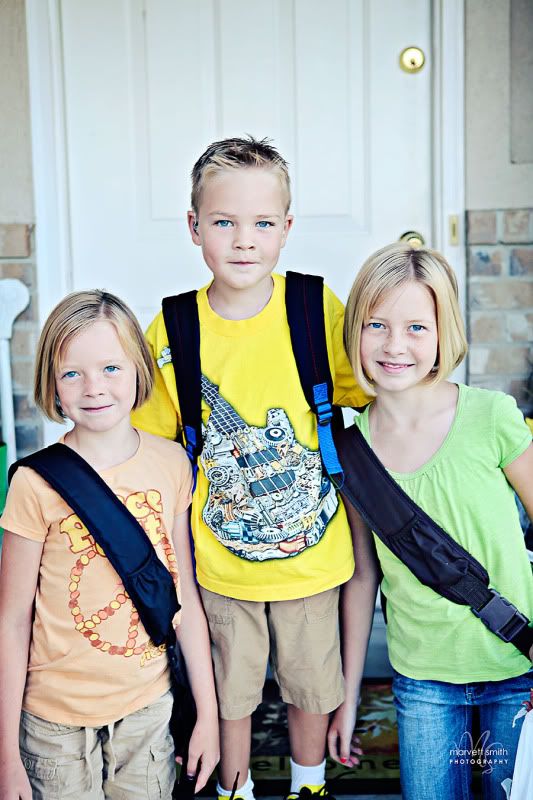 And just like that he was ready to go. My little man wearing the clothes he had put together so carefully left with a hand in each of his sister's and he set out for the bus stop. This is another keeper to be filed in my moments to remember forever folder.
He allowed me to follow. For a minute anyway. Then I was instructed to let him walk on his own. It was of course one of the things that he has been waiting for since forever. So he gave me a hug and off he went.
I was a bit sneaky though. I piled my things and myself into the car and I drove down to the bus stop. I wanted to witness his entire experience for myself. He was okay with it. He stood patiently in line for about 30 seconds or so and then started complaining that the bus was never going to show up. I'm sure you can just imagine his tone and the way the word never slowly drug off of his lips. This my friends is his "I'm tired of waiting here all day" look. Priceless I know.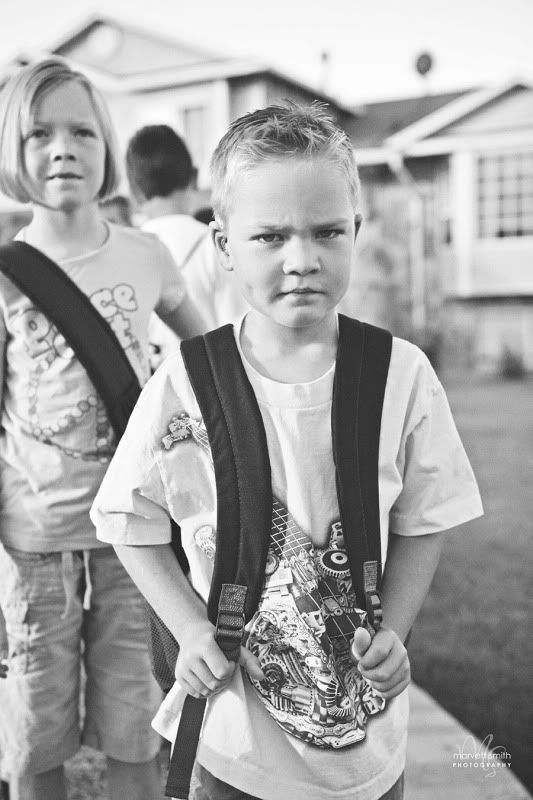 And as quickly as I snapped that picture the bus roared around the corner, and Doop was beyond excited.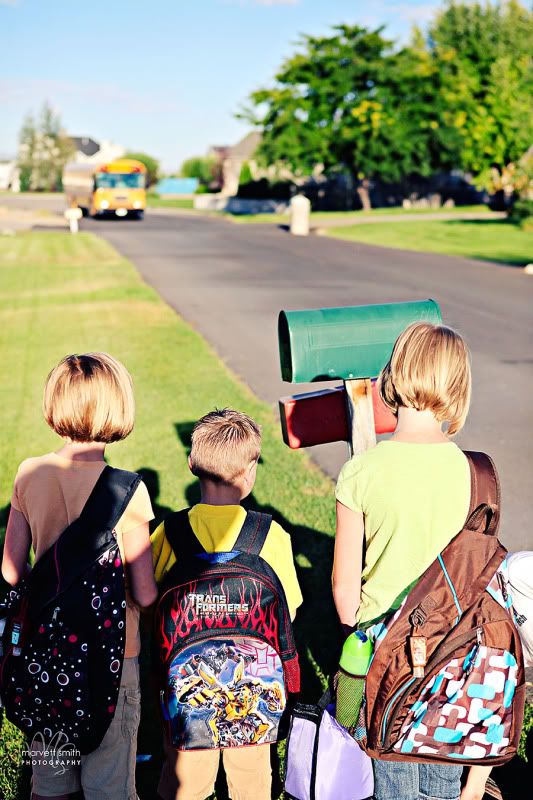 That lasted for a minute until the roar reached his hearing aids and he quickly slapped his hands over his ears.
Lou was there to console him though. She quietly slipped her hand on his back and reassured him that all would be well, and as fast as I blinked my eyes the bus stopped and he climbed on board with Seej leading the way and Lou bringing up the rear. Seej found a seat right up front, and I watched her and Lou fold him in between them nice and safe for his first trip on the bus. They waved to me as the bus pulled away, and I knew the day would be good. I have been a little apprehensive for this day to arrive. I have felt this way for several reasons, but it came anyway, and with it came an overwhelming stillness as I watched my girls take care of my boy. I know he is in good hands. I know I have no need to worry, and I'm glad that the day he has been waiting for finally arrived. It came, and it was oh so good.