Here's the thing. Life has been busy around here, and I haven't been keeping track of it here the way I should. It is after all the main purpose of this blog. So, with that being said I need to do a bit of catching up. I need to rewind back to the month of November. A few things happened last month that I didn't document because of my gratitude project. My girl Seej had a birthday, we took a trip to Disneyland, and my little man lost his first tooth. It was a big month. I have lots of pictures to share still from all of these events, but I thought I would start with Doop losing his first tooth.
This is how it went. For the past few months his two bottom teeth have been very loose. We visited the dentist at the beginning of the school year, and he mentioned that it wouldn't be long before they came out. Naturally Doop became pretty excited at the prospect of his first tooth coming out, and his first visit from the Toothfairy. The days went by and both teeth stayed in his mouth. He wiggled them every now and then and he patiently waited. Then the week before Thanksgiving came, and he asked me when I thought his teeth would actually come out of his mouth. He was getting concerned. To make light of the situation I asked him when he thought they might make their departure. He made a bet with me that one of his teeth would come out on Thanksgiving. That was the end of it.
Fast forward to Thanksgiving morning. He sleepily got out of bed and wandered into our bedroom. I was already up cooking Thanksgiving dinner, but I could hear him talking with JM. I couldn't hear what they were saying, but I could hear his feet quickly padding back and forth down the hall. Eventually he appeared in the kitchen. He excitedly came to tell me that his tooth was gone. He was so thrilled that the day had finally come, but there was a catch. When I asked him where his tooth was he honestly replied that he had no idea. He had no clue where his tooth was. He didn't know if he had swallowed it, or if it was somewhere in his bed. He was telling the truth. When he got out of bed that morning he didn't even know his tooth was gone. JM pointed this out to him and with complete disbelief he headed to the bathroom to see in the mirror for himself. This is when the excitement started, and he ran downstairs to show me that it was gone. He didn't care that his tooth was no where to be found. He was just happy that it finally fell out. His concern over the missing tooth changed when I informed him that the Toothfairy wouldn't leave him any money if there wasn't a tooth under his pillow. With that he turned and ran straight upstairs to find it.
I could hear him frantically searching. He looked through his bed, and he looked on the floor, and when he had looked in every possible place he could think of he returned downstairs to let me know that he just couldn't find the missing tooth. He was certain that he had swallowed it in the night. I jokingly told him again that I didn't think the Toothfairy would bring any money if there wasn't a tooth under the pillow. This is the funny part. Upon hearing this news, he turned and ran upstairs. I figured he was going to look one more time for the missing tooth. I was wrong. He ran up to our room and asked JM to pull the second loose tooth. JM popped it out, and Doop quickly returned to the kitchen with it in his hand. Can you believe that? He was so worried about the Toothfairy not visiting that he had his dad pull his other tooth out. Yes, it was loose, but still can you believe it? What a funny kid. He got a bonus too. While he was downstairs showing me the tooth that he had JM pull, JM actually found the first one he lost in the hallway on the floor. And like every story should end, this one has a happy ending too. The Toothfairy did visit him, and he ended up with double the money! Funny story from a funny kid. Man do I love him!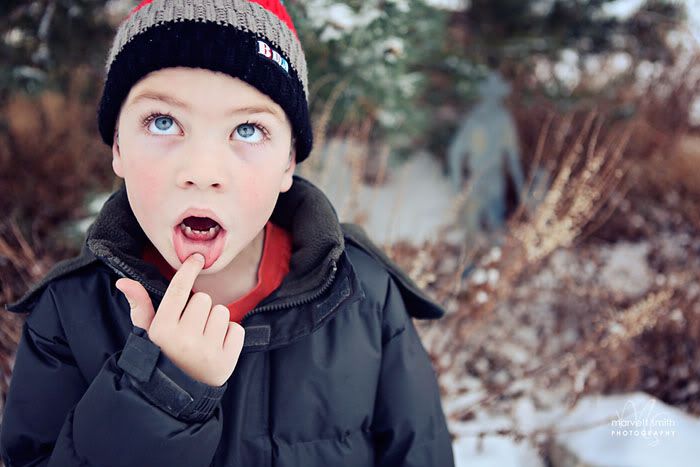 (His new teeth are already in. He refused to let me take a picture until now because he was afraid that everyone would laugh at him. On this day he let me take a picture because he was in the doghouse and he was trying to bargain his way out. This worked, and although it's a little late, I'll take it. Did I mention he is funny?)